OdorBoss Odor Control Towers
Rise above foul odors with OdorBoss® Towers.
OdorBoss towers implement powerful odor control on the jobsite. Mounting an OdorBoss odor control system to a carbon steel, hot dip galvanized pipe can elevate the unit up to 20 feet, expanding the amount of coverage possible.
Blanketing Odor Control Coverage
The elevated position of the OdorBoss tower allows the dispersed odor control mist to spread and create a blanket over the rising odor molecules. With the preventive coverage, the odor gets trapped in the mist and changes into non-smelling particles through the use of OdorVore chemical.
The height of the unit and standard 359° oscillation provide a large increase in coverage, giving the mist longer time to spread and remain in the air while continuously reacting to contact made with foul odors.
Protected Odor Control System
While the cannon works high above the ground as an industrial odorizer, the controls are easily accessible through the housing unit at the base of the tower. Not only are the controls protected, but the tank and pump are housed in the container to prevent unforeseen damage.
OdorBoss towers are also designed to work all year round with the housing unit providing full insulation, ready for the harshest winters.
The entire unit's controls are accessible through remote options, allowing equipment control anywhere on the jobsite.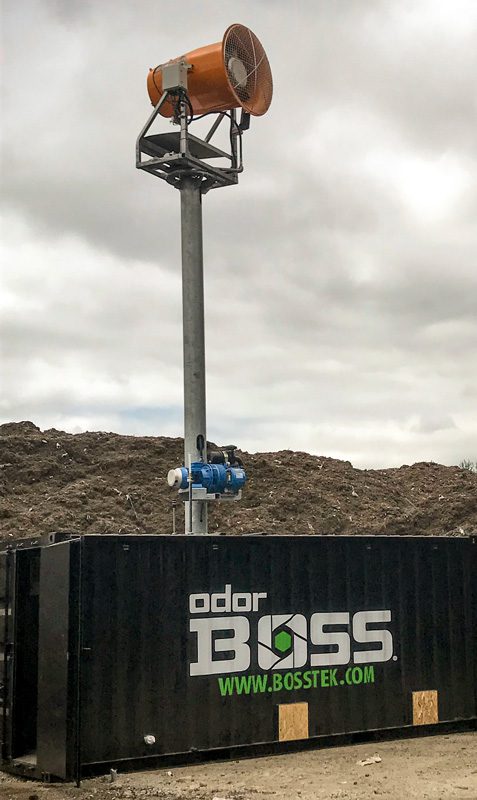 Interested in elevating your odor control? Fill out the form below.