New remote control capabilities have been developed though a collaboration between DustBoss and a pioneering Midwestern US scrapyard,which recently incorporated atomized misting technology for dust suppression at its 29-acre site in downtown Holland, MI.
The enhanced control better serves the unique layout and workflow of the facility, making dust control even easier and more efficient for operators moving material.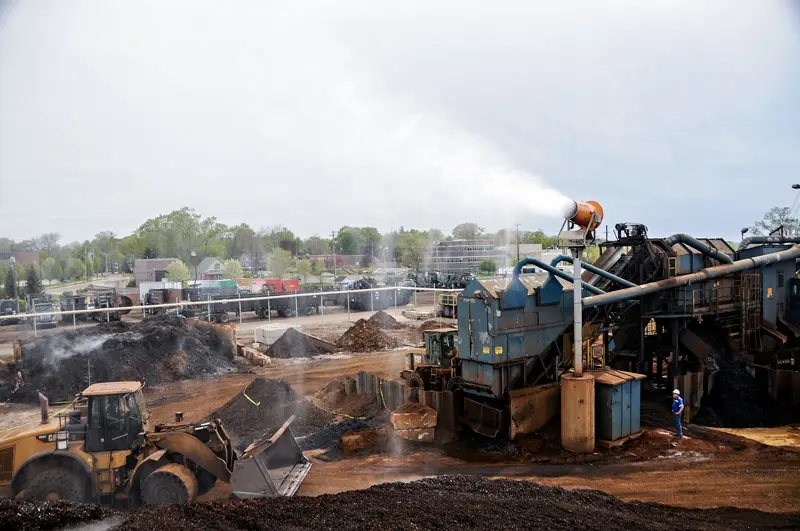 PADNOS has been re-purposing recyclable materials for more than 100 years, serving industrial and commercial accounts throughout the U.S., as well as consumers in and around Michigan. With 21 locations, the company accepts a wide range of materials, including paper, plastics, ferrous and non-ferrous metals, such as iron, steel, stainless, copper, aluminum and brass.
"The performance of this design is better than any method we'd tried in the past."

- Superintendent Tim Driesenga
Now in its fourth generation of family management, the firm strives to leverage a century of scrap management expertise, implementing industry best practices for optimal efficiency, while maintaining the highest level of environmental stewardship.
As part of that philosophy, PADNOS is constantly developing and refining its approach to fugitive material management, with a goal of preventing the escape of any dust or spillage that may be generated by its activities. In late 2012, the company researched equipment to bolster its open-area dust suppression capabilities.
"The site is about 29 acres," said Purchasing Director Bruce Karger. "We handle primarily metals at this facility, such as scrap from stamping plants and other metalworking operations, as well as peddler scrap from our smaller yards," he said. "Most of it comes in by truck, and it's moved by front loaders and cranes."
The loaders feed a shredder and a large shear. Both have integrated dust suppression, but the outflow dries fairly quickly, especially in hot weather. Subsequent handling of the shredded material inevitably creates dust, which can migrate long distances if left unchecked.
Surrounded by businesses and neighborhoods, company officials wanted to take proactive measures to ensure that dust would not create a nuisance for the surrounding community or create a workplace hazard.
Searching for the Right Dust Control Solution
After investigating several manufacturers and reviewing their equipment choices, PADNOS selected a DustBoss DB-60 to deliver suppression over three processing centers, covering about three acres in all.
"Other than basic material handling, the main dust-generating activities are shearing, shredding and bricking," Karger said. "Our goal is to ensure that airborne particles don't leave the property."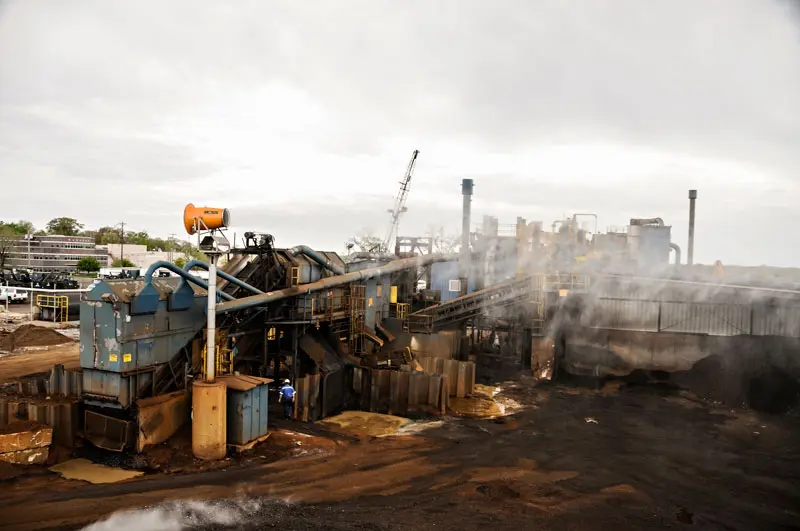 The atomized misting unit generates millions of droplets specifically sized to maximize dust suppressio, and then launches them over large distances in an engineered air plume created by a powerful ducted fan. Supplied with a 20-foot (6-meter) mounting tower, the DB-60 was installed atop a 10-foot (3-meter) concrete pedestal to increase its range and aiming ability even further.
"We've used hoses and sprinklers in the past and at times we've had our own water trucks on-site," said PADNOS Superintendent Tim Driesenga. "But the suppression performance wasn't what we had hoped for. We've also tried dust suppression equipment from other suppliers. But when we compared results from the machines we had to the DustBoss, the DB-60 was far more effective, clearly a higher-quality design. It does a much better job of knocking down the dust and keeping it down."
From the time of its initial arrival, the PADNOS team was pleased with the results of using the DustBoss. "The performance of this design is better than any method we'd tried in the past, and eliminating the manual spraying presented immediate labor savings for us," Driesenga said.
Remote controlled dust control
The unit was originally supplied with four optional remote controls, giving loader operators the ability to turn the unit and the oscillation on or off at any time. The oscillation range, however, was only programmable at the panel.
"Our goal is to ensure that airborne particles don't leave the property."

-  Bruce Karger
Purchasing Director
Although the system performed well, operators noticed an opportunity to obtain even more benefit from the system. Driesenga explained that loading and unloading could take place at nearly any point within the roughly 3-acre area, and the 359° oscillation was a key to reaching those activities.
But the relatively slow oscillation speed prevented a quick rotation of the barrel to focus on an arriving truck. Operators had to wait for the machine to oscillate to the required spot.
DustBoss engineers decided that they could achieve the desired repositioning speed by replacing the fixed-speed oscillation motor with one that turned approximately 4x faster, coupled to a variable-frequency drive (VFD). To avoid having to ship the unit back for the revisions, DustBoss personnel completed the gear motor change-out, panel modifications, and VFD installation on-site.
"With the modified remotes, we have much more versatility in aiming the DustBoss and quickly bringing it to the exact location needed at any given time," said Driesenga. "And the oscillation arc can be changed even while the oscillator is running."
Added Karger: "I feel like these are the tools that enable us to do a better job of preventing dust from leaving our property. For us, it's taking our dust management to the next level. In fact, we have plans in place for another unit."
CUSTOMER
PADNOS
LOCATION
Holland, MI (USA)
APPLICATION
Three-acre scrap recycling area that sorts and processes a wide variety of materials for repurposing, including shearing, shredding and bricking of paper, plastics and metals.
CHALLENGE
Find a suppression method to improve on the performance of hoses, sprinklers, water trucks and existing dust control equipment, making dust management easier and more effective, while improving working conditions and air quality readings at the site.
SOLUTION
DustBoss 60 (DB-60)
RESULTS
Constant air monitoring at the PADNOS site have confirmed the machine's effectiveness, helping the company to remain in full compliance with air quality regulations. "The performance is better than any method we'd tried in the past, and eliminating the manual spraying presented immediate labor savings for us," said a company official.
PANDOS
handles recyclables for industrial and commercial accounts in the U.S. From California to the far Northeast of Canada, the firm actively manages scrap for clients with accuracy, efficiency and control. The company prides itself on developing efficient, environmentally-responsible processes for all phases of its business, with a culture that fosters collaboration, creative problem-solving and continuous improvement.
Stay up-to-date on dust control applications...
More on DustBoss Scrap Recycling