One thing became clear after hearing our customers' odor control struggles: it doesn't matter how innovative your odor control solutions are if they aren't built for all seasons.
The OdorBoss is already one of the most versatile odor control systems on market with it's mobility, durability, and power. Optional heat protection measures are designed to protect cold temperatures from taking down the entire operation.
The OdorBoss® OB-60G with Heat combines an enclosure with insulation, heat tracing, and internal heat generation to protect the equipment while in use and in storage. The reported result is a dramatic reduction in odor without equipment clogging or downtime from frozen lines.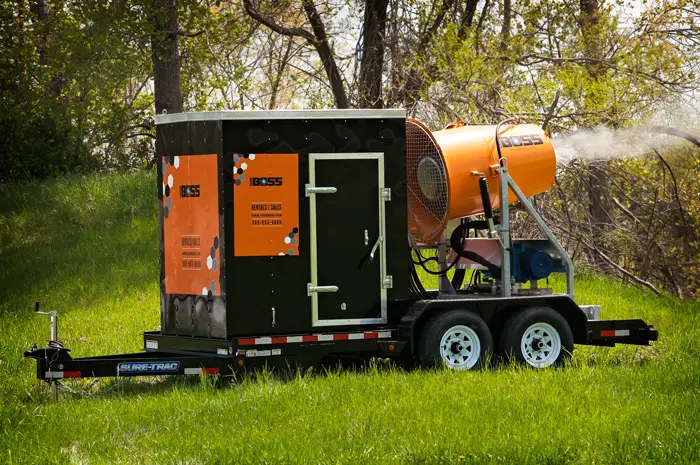 Impressed with the results during summer, customers asked for an outdoor odor control solution that could withstand freezing temperatures.
Other odor suppression methods such as perimeter fence misting units and spray trucks can have serious issues in winter. Perimeter fence misting tubes freeze, rendering them useless for part of the year. Water spray trucks commonly experience ice buildup on the inside wall of the tank, along pipes, and around nozzles, often requiring indoor storage to thaw.
Inspired by the DustBoss industrial fan-driven dust suppression products, the OB-60G has been engineered to deliver a finer mist that is better suited to optimum odor control. Based on principles of matching the droplet size to the size of the targeted vapor, the system uses a special atomizer nozzle and a 10 HP air compressor to create an engineered fog comprised of millions of tiny droplets as small as 15 microns in diameter (approximately twice the size of a human red blood cell).
Odor Control Solutions for Winter Conditions
The key for excellent odor control in many operations is the versatility and low maintenance that the OB-60G with Heat provides. Powered by a 480-volt power source, the special open-ended barrel design contains a powerful 25 horsepower fan that generates 30,000 cubic feet per minute (152.4 CMS) of airflow on one end, which propels the fog created by the Odor X Atomizer nozzle located at the other end.
The device is mounted on a towable roadworthy trailer that is also fitted with a 500-gallon (1893 L) water tank housed in an insulated metal enclosure. The unit can run for as long as 16 hours on a single tank filling under normal operating conditions.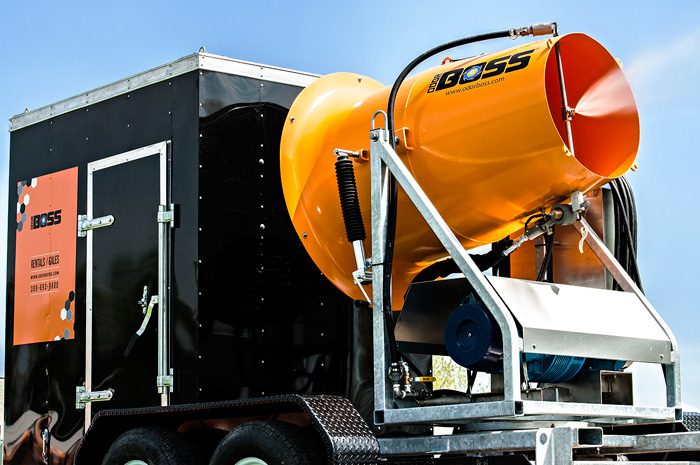 During operation, a 100-watt thermostatically-controlled heater keeps the tank and equipment within the enclosure well above freezing, while the atomizing nozzle, regulator and other exterior components are warmed by separate heating elements to assure consistent operation without ice buildup.
The tank is wrapped in heat tracing and skirted with a wide insulated belt around the bottom. When not in use, operators can keep the genset running or choose the more cost-effective option of switching the power source from 480 volts to 120 volts and using a grounded extension cord to power the essential freeze prevention elements. Depending on the outside temperature, even the unheated enclosure will stay above freezing for several hours after shutdown.
Ease of Mobility
Fitted with a 2-5/16" Class III ball hitch, the unit can be quickly repositioned on its trailer to accommodate changing work locations or shifting wind patterns with a standard pickup truck or small skid steer. At just 8.8 feet (2.68 meters) wide, 19.8 feet (6.03 meters) long and 8.4 feet (2.56 meters) tall, it can be easily positioned in places where most spray trucks cannot reach.
Using the touch screen panel housed in a protective NEMA 3R cabinet, operators can set the unit to be aimed precisely where odor concentrations are highest or used as a powerful perimeter barrier with an extremely wide dispersal area using the standard 0-359° built-in electric oscillator and 0-50º vertical adjustment.
Neutralize and change odors today!
Receive a FREE quote and talk to an odor control specialist today to neutralize unwanted odors!
DustBoss® has officially unveiled the next advancement in industrial dust suppression, a powerful cannon that is designed to fight dust with maximum efficiency.  Developed in response to the needs of customers in areas with variable winds, the DB-60 Surge® features water propelled at high velocity from a center nozzle, combined with the industry-proven fan and
Subscribe and Stay Up-to-Date!
Receive a monthly newsletter keeping you up-to-date on the latest in dust and odor control.