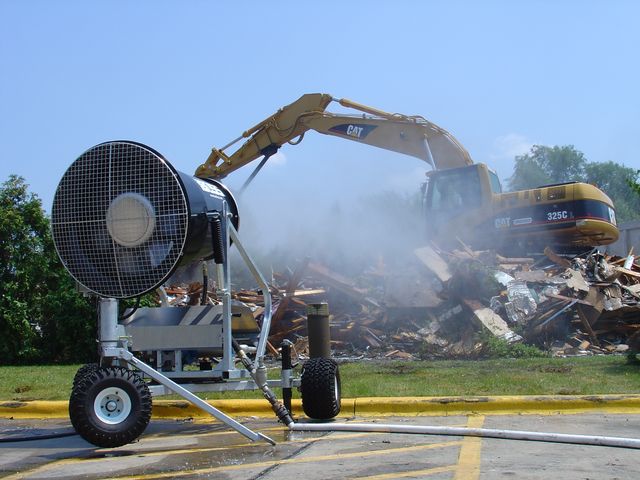 When IronHustler Excavating was contracted to demolish the Grandview Hotel in Peoria, IL (US), they knew from the start that they wanted to go beyond the state EPA regulations for controlling fugitive dust particles.
"The unit starting paying back from day one, since we no longer need to have a man spraying all day.

We just start it up and let it go."

- Ken Sidwell

VP
Like most demolition contractors, the company had been hand spraying debris in an attempt to suppress dust, with mixed results. But at the site of the Grandview, project managers brought in specialized portable equipment designed specifically for dust control.
"With hand spraying, it's hard not to saturate the rubble," said VP Ken Sidwell. "That leads to runoff, which is a mess and a potential hazard, especially during a cold Midwest winter."
He continued, "Beyond that, you just can't get the fine mist needed to knock down airborne particles. We were looking for a better way to trap the dust and prevent it from migrating, but we wanted to do it with fewer manhours."
Company officials specified the DustBoss DB-60 to replace their marginally effective and labor-intensive approach.
The DB-60 is designed specifically for efficient dust suppression, built around a 25 HP oscillating fan that's capable of throwing a finely atomized mist more than 200 feet. Its 30 specially-designed  nozzles create water droplets just the right size for maximum dust capture: 50–200 microns.
The DustBoss was set up in an oscillating pattern while material was being moved to and from the crusher during the 5-week project.
Sidwell's team noticed a difference immediately. "This approach is far more effective at stripping airborne particles from the air," he said. "And the unit starting paying back from day one, since we no longer need to have a man spraying all day. We just start it up and let it go."
Processing the Demolition Debris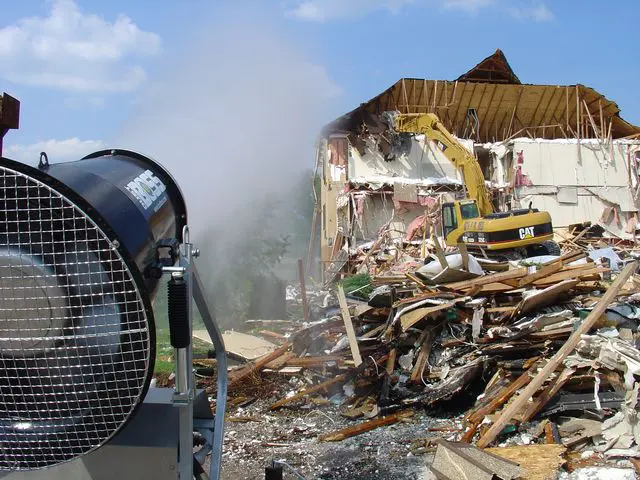 Once the structure was stripped of any materials that may have had an environmental impact, IronHustler's crews brought down the 3-story building with a pair of excavators, a John Deere 230C LC and a Caterpillar 325C L.
"We were looking for a better way to trap the dust and prevent it from migrating, but we wanted to do it with fewer manhours."

- Ken Sidwell

VP
Steel was sorted and trucked to a certified recycler, but 100 percent of the structure's concrete and block was crushed to aggregate on-site with a Rubble Master® RM80 compact mobile crusher. The RM80 is an impact crusher that can be fitted with two or four hammers, depending on the application.
The drive unit is a Deutz water-cooled diesel, which develops 122 kW of power at 2,000 RPM. Fed by a 2.6 cubic yard vibratory system out of a hopper that is 9 feet high and 7 feet across, the crusher is capable of processing up to 165 tons per hour.
All of the aggregate that was produced from the recycled materials remained at the site, to be used as construction material for the shopping center being planned for the location.
The Science of Dust Control
Dust suppression is most effective when airborne water droplets and dust particles are about the same size, so they will collide more readily. We atomize the water to a specific droplet size range, to get the greatest particle attraction.
Optimizing dust control means designing the equipment for that purpose from the ground up. The nozzles and fan have to work together to produce the optimum flow and droplet distribution.
The spray angle and delivery pressure are also critical to achieve the right droplet size and velocity. To maintain the necessary pressure for such a long throw, the DB-60's 10 HP pump provides a boost of up to 150 psi. The unit can generate as much as 30,000 CFM of air, allowing an operator to blanket up to 21,000 square feet (1,950 square meters) with a water-conserving mist of ultra-fine droplets.
Fed by a 1-1/2" quick-disconnect hose, the machine requires just 10 psi of constant pressure. The machine can also be fitted with an optional dosing pump that can be used to automatically meter in odor control additives or surfactants for superior particle capture.
The DB-60 can be set up to run from a potable or non-potable water supply.
"We've used the DustBoss on many jobs since the Grandview Hotel job," Sidwell added. "It's been a very effective dust control technique for us."
CUSTOMER
IronHustler Excavating
LOCATION
Peoria, IL (US)
CHALLENGE
Control nuisance dust at the site of the Grandview Hotel demolition, where two 3-story buildings were being removed. IronHustler's project managers wanted to achieve more effective dust suppression than the minimum standards required by the IL EPA, yet reduce the manpower investment required to spray by hand. Preventing standing water and potential runoff were also important.
SOLUTION
The DustBoss® 60 (DB-60), a highpowered workhorse capable of blanketing a 21,000 square foot area with water droplets that are optimized for maximum particle attraction and dust/odor control.
RESULTS
Easily keeping pace with mobile crushing equipment averaging 8 hours a day, the DustBoss delivered far greater efficiency than previous manual spraying methods. IronHustler reported superior dust control with the oscillating mobile design throughout the project's 5-week lifespan, without standing water. All block and concrete was processed on-site creating aggregate to be used as a base for the shopping center expected to be built at the location.
IRONHUSTLER EXCAVATING
delivers a full range of construction and demolition services, including structure demolition, excavating and storm sewers, trucking, ash handling, site clearing remediation, and development. The company provides hands-on ownership involvement on every project, developing a trusted relationship with customers and 90% repeat business.
Stay up-to-date on dust control applications...
More on DustBoss Demolitions