One of the Longest Running DB-60 Units Trounces Fugitive Dust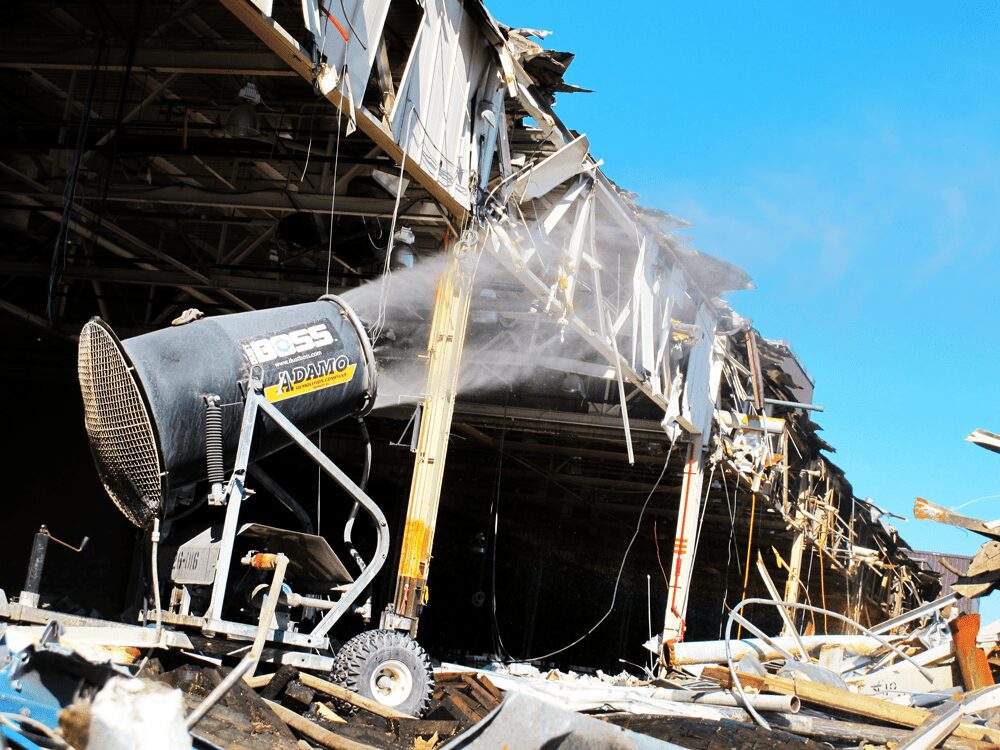 "It's the best method of dust suppression I've seen in my 40 years in the demolition business, other than Mother Nature with a heavy rain storm.
- Rick Cuppetill
Adamo
DustBoss has been a long time partner with Adamo on dust control.
Adamo specializes in demolition and site remediation, including many of the Midwest's highest-profile projects. The company is recognized as being one of the top demolition contractors in the country, consistently ranking in the top 20 of the nation.
Adamo has been using one of the first DustBoss DB-60 units to suppress their fugitive dust for many of their demolition jobs. Recently, Adamo has taken on the job of tearing down a used Midwest manufacturing facility while keeping undesirable dust from effecting surrounding work areas. The beginning DB-60 handles their dust control.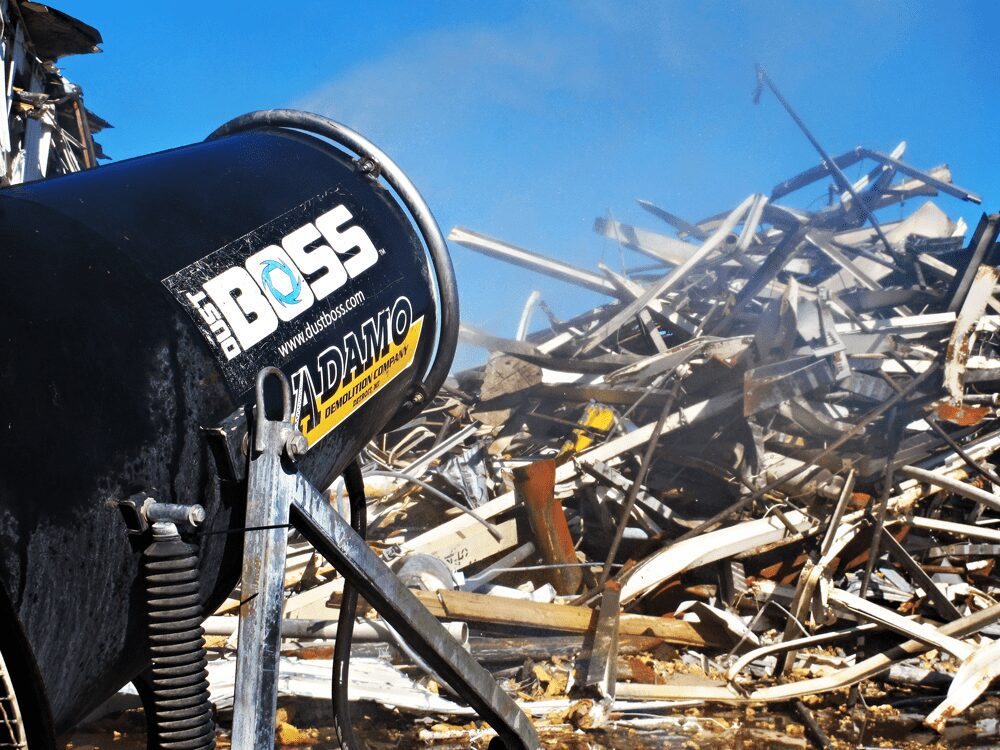 DustBoss uses atomized mist as its suppression technology. Atomized mist is the only dust control technology that can provide both airborne and surface suppression. The atomized droplets are able to capture fugitive dust since the droplets and dust particles are near the same size. The droplets take the dust to the ground, providing airborne suppression. Once the droplets collide with the ground, the small droplets seal the surface of impact, providing surface suppression.
The DB-60 can throw 125,000 sq feet of coverage with 359 degree oscillation, more than two football fields in size. Using a ducted fan located in the back of the cannon to push the atomized mist, the DB-60 extends its throw to 60 meters in length. All mounted to a jobsite ready carriage for easy mobility.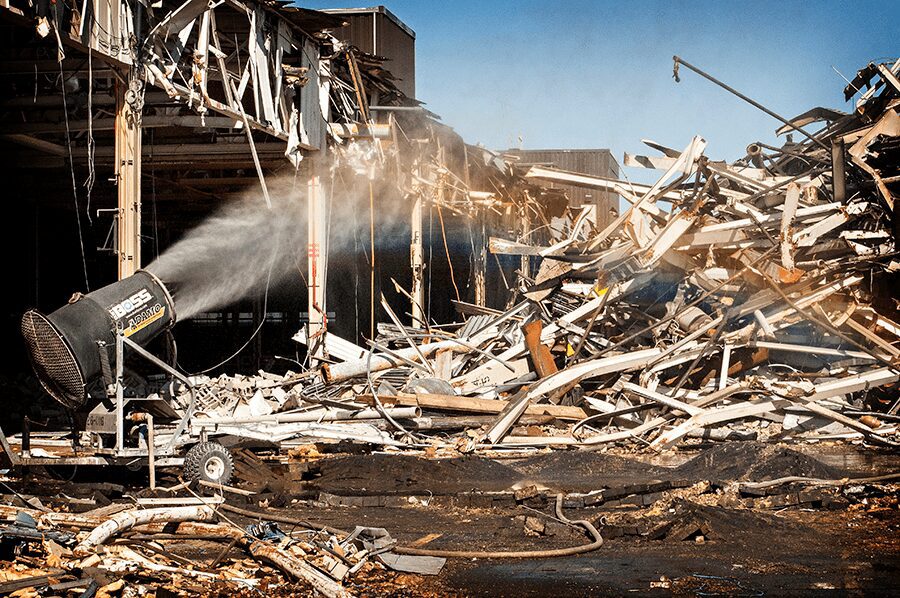 Also available, the DB-60 can be paired with a genset and mounted on a roadworthy trailer to form the DB-60 Fusion. The ideal unit for jobsites lacking a convenient power source.
Still running today, the oneset DB-60 continues to suppress Adamo's fugitive dust and doesn't seem to stop anytime soon.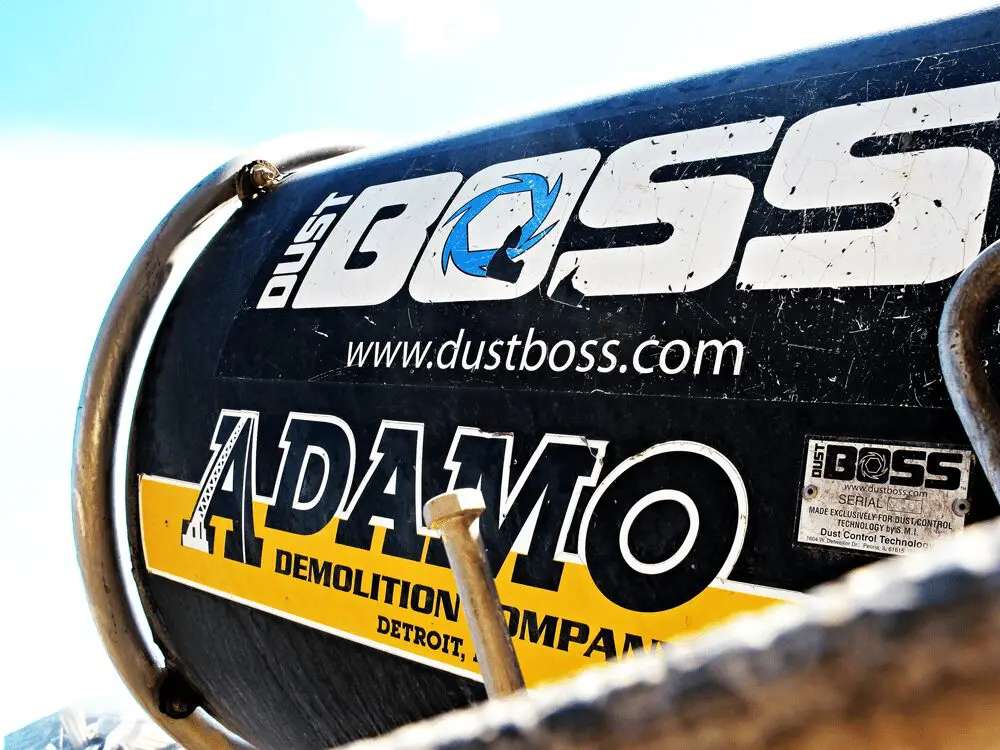 Ready to stop dust at your demolition jobsite?
Receive a FREE quote today and talk to a dust control specialist to control dust at your demolition!
In 2023, the U.S. Occupational Safety and Health Administration (OSHA) announced new rules regarding Respirable Crystalline Silica (RCS) dust emissions, marking a major adjustment to how to address the top silica dust exposure hazards in the workplace from ports to mines to construction sites.[1] This quickly follows a similar announcement by the U.S. Mining Safety
Subscribe and Stay Up-to-Date!
Receive a monthly newsletter keeping you up-to-date on the latest in dust and odor control.