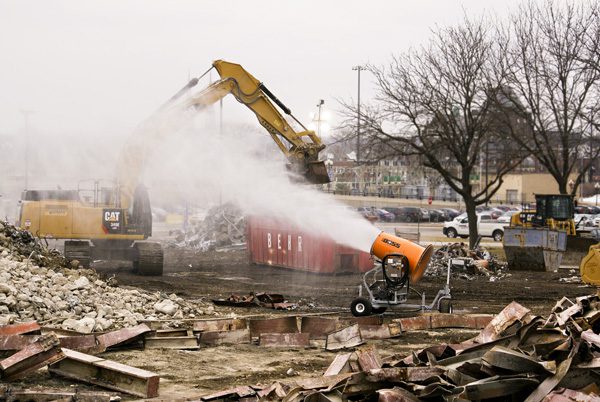 "It's the best method of dust suppression I've seen in my 40 years in the demolition business, other than Mother Nature with a heavy rain storm."
- Rick Cuppetilli
Project Manager
Adamo has become a name synonymous with demolition and site remediation, including many of the Midwest's highest-profile projects.
The company is recognized throughout the region for providing demolition, decontamination, asset recovery and related services, consistently ranking in the top 20 of the nation's demolition contractors by revenue and project volume.
When the firm laid out its plans for the delicate teardown of a 6-story parking structure -- topped by two more stories of office space -- and attached to the Methodist Medical Center of Illinois, company officials knew that it would be a "surgical" removal, one that placed great emphasis on comprehensive dust management.
"We've always been extremely diligent in our efforts to prevent the migration of fugitive dust off-site," said Project Manager Rick Cuppetilli.  "Containment is a component of virtually every project."
Dust Suppression Misting System
The 232,000 square foot edifice required close attention to dust control to prevent fugitive particles from creating a hazard for the hospital or a nuisance to the neighboring community.
Suppression was provided by high-efficiency atomized misting equipment designed specifically for dust control, part of the five-unit fleet of dust suppression machines at Adamo Group (Detroit, MI) that has become an integral component of the firm's demolition services.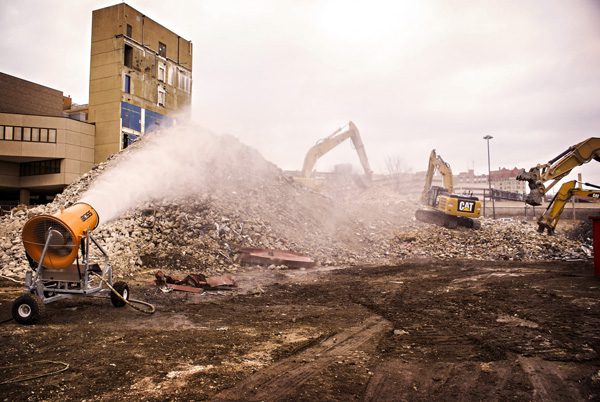 Dust management was achieved with a DB-60 dust suppression system, positioned according to the work area and wind direction. Developed with a series of 30 specially-designed nozzles to atomize the water supply, the DB-60 uses a powerful 25 HP electric motor that generates 30,000 CFM of air flow (nearly 850 CMM) to launch millions of droplets per minute into the air.
The atomized spray has a throw of more than 200 feet (approx. 60 meters) under calm conditions, yet the standard carriage-mounted device is completely portable, allowing it to be located and aimed wherever it's needed most.
The DB-60s have an adjustable throw angle from 0-50° elevation, and when they're equipped with optional 359° oscillation, each one can cover more than 125,000 square feet (over 11,600 square meters or roughly 2.8 acres), which is more than 2½ standard American football fields.
The unique engineering of the barrel, fan, and atomizing nozzles creates a large, dense plume. The droplets are primarily in the 50-200 micron size range, which is optimum for dust management in most applications.
The Adamo crew relied primarily on a Caterpillar 385B Excavator with an MP-40 Multiprocessor to bring down the structure, which was located in a commercial area in the center of downtown Peoria. Debris was trucked offsite, with materials recycled by local steel mills, scrap yards, and concrete recyclers. The takedown took approximately two months to complete.
Depending on the project, demolition equipment used and current wind conditions, crews either position the DustBoss units to oscillate over a large area or as a stationary barrier to prevent dust from carrying on the wind and migrating beyond job site boundaries.
On most jobs, the machines are powered by mobile generator. Standing more than two meters tall (over seven feet), the DB-60 is fed by a 1-1/2" hose with a cam-and-groove quick disconnect for coupling to a fire hydrant or other water source.
Direct-Drive Misting Fans
Direct-drive electric motors are used in the DustBoss fan-driven designs, which deliver several advantages over diesel-powered machines. Electric motors are quieter than diesel engines, and they contribute no emissions at the jobsite. Diesel designs typically include a complex arrangement of pulleys, belts and gears, which can require significant time and expense for ongoing maintenance.
Unlike a diesel motor, the maintenance requirements on the electric designs are extremely minimal, with lubrication of fan motor bearings recommended every 10,000 hours and an oscillation motor that is lubricated for life.
Despite the unit's size, Adamo relocates the carriage-mounted DustBoss easily with a front loader whenever conditions dictate, which would be more difficult with a bulky diesel-powered design.  The DB-60 can also be moved manually by two adults.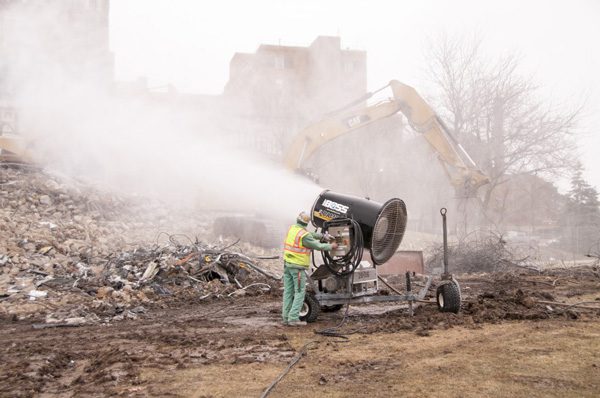 "Before we purchased our first DustBoss, we used conventional methods such as hoses, water trucks and 'big gun' sprinklers," Cuppetilli said. "We also investigated foggers and other devices, but we didn't feel they would be adaptable to the requirements of demolition projects."
Atomized mist technology is one of the few suppression techniques that is effective on both airborne particles and ground-level dust.
"We first learned about atomized misting technology from an air quality inspector, who talked to us about its effectiveness in demolition applications," he said. "We were looking for better management and control from our dust suppression plan."
Among the company's objectives was using fewer labor hours to keep job sites in compliance, so staff could focus on core business activities. The firm also wanted to improve the effectiveness of its dust suppression efforts, without placing workers near the demolition zone.
"Our initial encounter with DustBoss was at the National Demolition Association convention in 2005.  We purchased our first DustBoss that same year, and it's still running strong as part of our dust suppression fleet," Cuppetilli said. "It's the best method of dust suppression I've seen in my 40 years in the demolition business, other than Mother Nature with a heavy rain storm."
The technology has been so successful at controlling dust that the company reports significantly improved air quality readings, reducing nuisance dust to the point where it is no longer an issue.
With multiple DustBoss machines in its fleet to quickly form a network suited to nearly any worksite, the firm has positioned itself as a conscientious employer and environmental steward, able to comply with all applicable regulations.
CUSTOMER
Adamo
LOCATION
Peoria, IL (USA)
APPLICATION
Demolition on the grounds of a functioning hospital
CHALLENGE
Prevent fugitive particles from creating a hazard for the hospital or a nuisance to the neighboring community
SOLUTION
Five DustBoss DB-60 mist cannons
RESULTS
Significantly improved air quality readings, reducing nuisance dust to the point where it is no longer an issue.
ADAMO GROUP
Adamo Group, a second-generation family business founded in 1964 by John Adamo, Sr., is currently managed by two of his sons, Richard and John Adamo, Jr. Supported by a strong infrastructure of engineers and management professionals, the company has developed into an experienced technical team that advises clients on seemingly endless environmental issues and regulatory mandates impacting demolition projects. John Adamo, Jr. currently serves on the Board of Directors of the National Demolition Association.
Stay up-to-date on dust control applications...