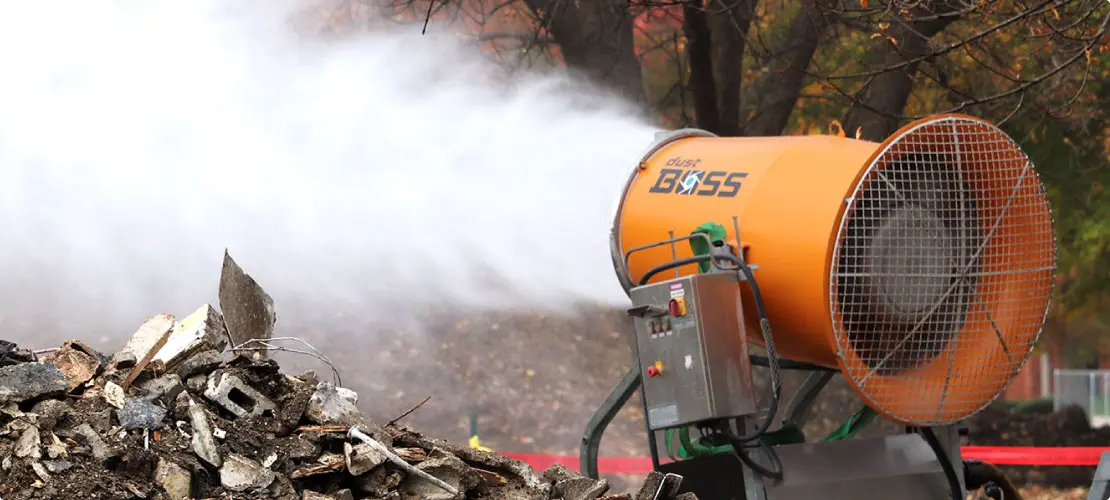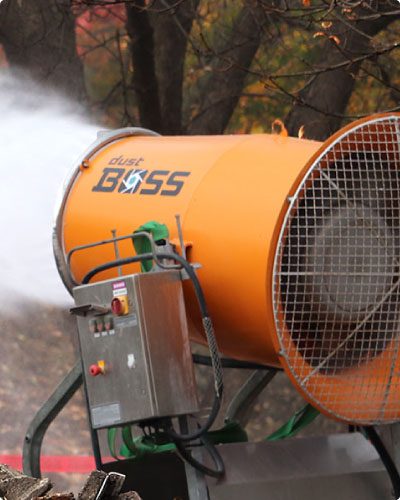 Acknowledging the need for dust control is often challenging. It can be difficult to determine whether the amount of dust being produced exceeds permissible exposure levels that lead to a harmful working conditions. However, in effort to maintain safe environments for employees and the surrounding community, it is imperative to monitor work site air quality.
Once the decision has been made to utilize dust control, the next step is to determine which system will be most effective for your specific application. With BossTek, dust problems can easily be taken care of through implementation of a wide range of dust control systems. This allows your site to be paired with appropriately powered dust control equipment providing the optimal coverage to fight fugitive dust.
After identifying the proper cannon size, it's mounting time. All dust suppression units can be placed on various frameworks based on your needs. Our dust suppression machines come with a standard mount, but customization options allow your equipment to be tailored specifically towards your on-site needs. All options share some benefits, but each type of mount also comes with its own perks.
Time to mount up! Here are four ways to mount your dust suppression attack.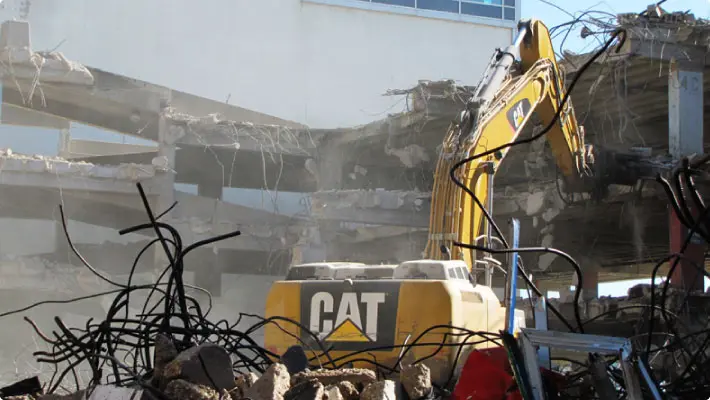 1. CARRIAGE - MOBILE DUST CONTROL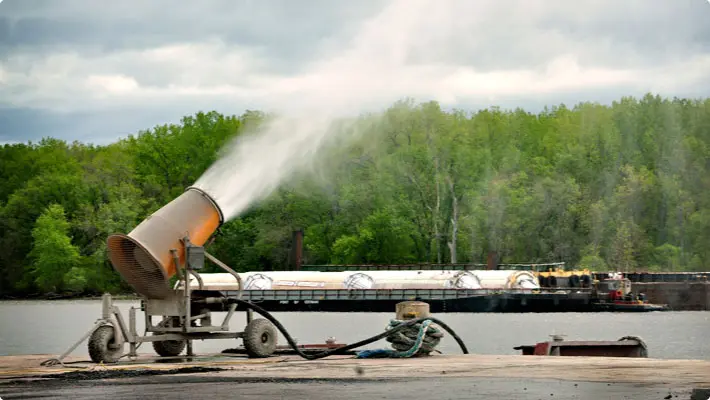 The carriage mount is the standard mount for DustBoss cannon units. It puts BossTek's dust control systems on a 3-wheeled carriage to provide easy mobility for transportation around the jobsite. The units smoothly relocate from one dust generating area to the next through this popular mount option.
Minor repositioning can usually be done by hand, without the need for additional equipment. That gives you the power to make quick, on-the-spot adjustments for varying factors such as wind direction.
The DustBoss also offers the ability to oscillate the barrel towards dust-generating activities. Applications that don't require relocation of the entire unit frequently utilize this feature to fully maximize the coverage area. Depending on the size of the cannon, the standard oscillation can range from 40° with the DustBoss DB-60 up to 359° with the DB-100.
While standard specs vary across systems, each unit can be customized for full 359° oscillation if desired. Ask your dust control specialist about additional options, including remote automation and the quick release manifold for easy nozzle maintenance.
Talk to a dust control specialist and get a quick quote for your project.
2. SKID - STATIONARY DUST CONTROL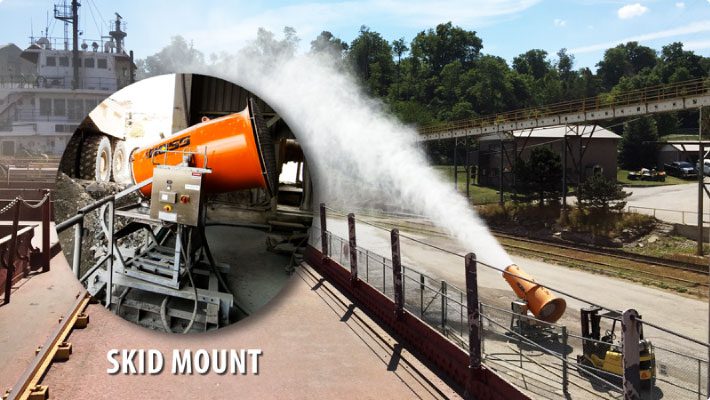 When the source of dust is stationary, the skid mount can be very useful. While less commonly used than the carriage mount, the skid mount is ideal for a variety of applications.
Skid mounted DustBoss units can easily be moved with a forklift (or similar equipment) to reposition the dust suppression equipment on the job. Once in place, the unit's weight provides excellent stability while the machine is being operated.
If a more permanent location is desired, skids of various sizes are often used to install cannons above dust-generating activities. Platforms or preexisting structures provide an ideal home for skid mounted units.
Whenever positioning dust control equipment, finding a secure, elevated location to place the system helps increase dust suppression effectiveness by driving dust to the ground.
3. TOWER - ELEVATED DUST CONTROL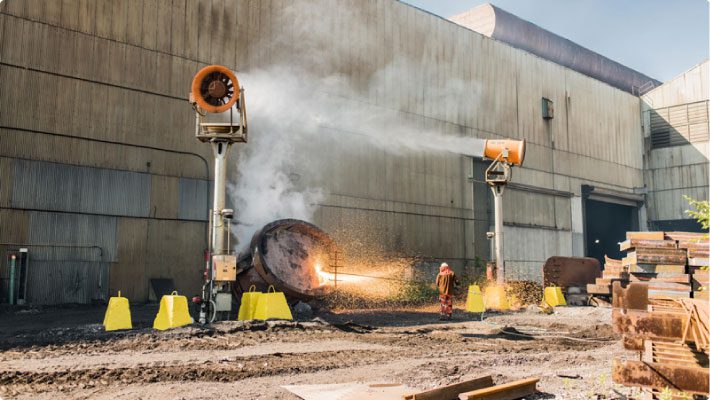 For fixed dust patterns, elevating your machine with a tower mount will always be the best route.
Aiming down from above harnesses the power of gravity, creating a downward flow that drives dust to the ground. Expanding coverage and reach on stockpiles, steel DustBoss Towers can raise any sized cannon up to 30 feet into the air.
Sometimes the towers are secured onto bases or platforms to achieve additional height. Other times towers are installed on modified shipping containers, providing storage and protection for the units controls. Elevation could also be obtained by suspending the machines from a ceiling.
Either way, all cannon functions can be controlled from the ground with remotes. Automation often can play a role too, programming activity based on everything from wind direction to time of day. Many operations, such as in slag dumping, use triggers that can activate the misting cannons like an approaching truck.
With a tower mount, what you sacrifice in mobility you more than make up for with effectiveness. The rule is that if you can elevate, you should.
4. TRAILER - ROADWORTHY DUST CONTROL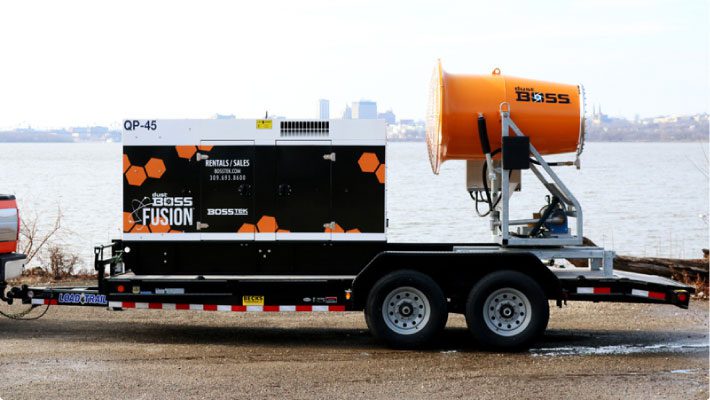 The fourth way to mount your DustBoss dust control system is on a trailer. The DustBoss Fusion takes this mount to a new level by pairing the dust suppression cannon with a genset to eliminate the need for an external power source.
Mounted on a roadworthy trailer, Fusion units are ready to hit the road to meet the undesirable dust head on wherever desired. The unit can easily be moved around an individual jobsite as well by towing the trailer with the standard pintle hitch.
For a truly self-contained solution, a genset / cannon / trailer combo can be specified with a water tank or a pump with lift to pull from stationary water sources such as ponds. Some operations have installed a skid mount onto a water truck, allowing for greater volumes and longer run time.
Several demolition operations have mounted a dust cannon onto a man lift, creating a mobile tower that can meet those higher stories on buildings.
Misting cannon innovation is driven by customer need and imagination. The technology is here to truly customize your dust control, and taking the time to explain the needs of your site can help specialists develop the right solution for you.
READY TO IMPLEMENT MOUNTED DUST CONTROL?
Receive a quick quote and talk to a dust control specialist today to end fugitive dust!