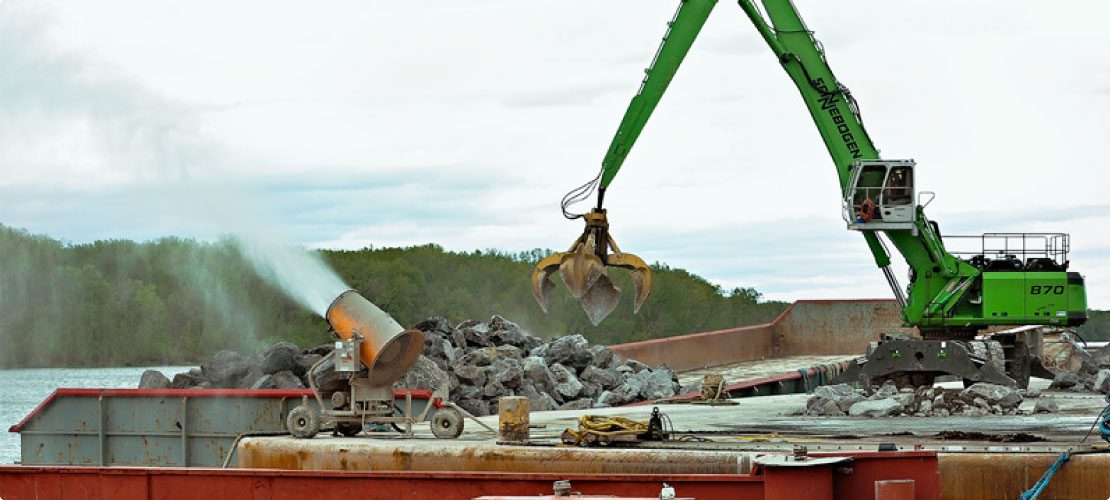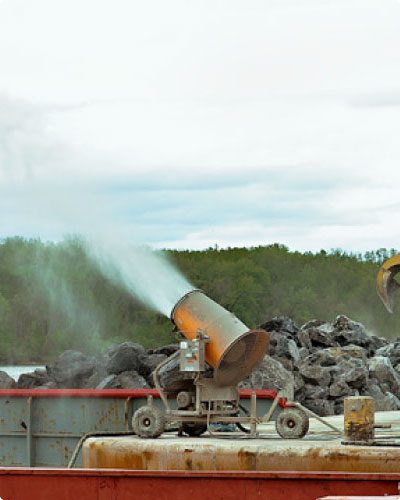 The demolition materials chose their path among many options. Whether they were processed at a transfer station or broken into smaller pieces at a crushing facility, these materials followed their path to stay at that industry or be shipped to the next. For this transfer process of bulk materials, shipping via port facilities is often used and safety is of the utmost importance including dust control.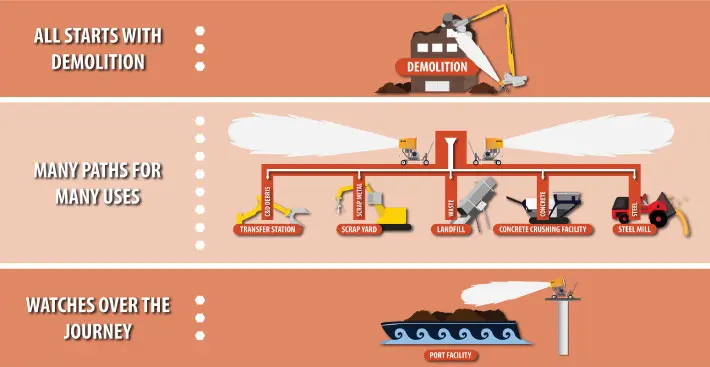 Port facilities take massive quantities of materials and ship them to another location via barges and vessels on water. Materials shipped at these facilities include all of the demolition materials that have come through the branching paths of the DustBoss throughout the Industries chart. Other materials making the aquatic shipment journey include:
Petcoke
Clinker
Grain
Coal
Gypsum
Bauxite
And More
The loading and off-loading processes at these facilities can create fugitive dust that needs to be controlled. DustBoss, as part of a larger port safety management system, pounces on the dust, not giving it a chance to breath.
OFF-LOADING MATERIALS WITH DUST CONTROL
Once the demolition materials have been processed at one of the branching paths, they can be transported in bulk at a port facility. Crushing facility aggregate is often shipped through port facilities around the world for cost and time effectiveness. Off-loading the crushed material from transferring trucks to the port stockpiles or barges creates unwanted dust and health risks requiring on-site dust control. DustBoss cannons apply atomized mist to the particles, bringing it to the ground. Off-loading incoming materials from other barges or vessels can cause similar dust that is easy for DustBoss units, like the DB-60, to handle.
Talk to a dust control specialist and get a quick quote for your project.
LOADING MATERIALS WITH DUST CONTROL
Once the material has been taken off the incoming means of transportation, the material needs to be loaded onto a barge for shipment. Loading directly from an incoming vessel or truck can cause dust to be generated when disturbing the settled material. Well-positioned DustBoss cannons cover a large area with the ability to automatically oscillate, capturing the migrating dust during the loading process. DustBoss tower units provide optimal dust suppression using gravity to push the dust to the ground and increasing the range through extended height.
Incoming materials are often stored at port facilities if they are not ready to be shipped immediately upon arrival. A piece of industrial equipment known as a stacker and reclaimer is often used at large ports to create stockpiles and transfer it to the vessels once the saved materials are ready for water shipment, which reduces potential hazards for manual port and dock operators. When the equipment takes the stocked materials and moves them to the barges, particles are generated where the materials are claimed needing dust control.
DustBoss cannons are able to cover entire stockpiles, preventing dust from escaping during the reclaiming process. Dust control is also needed when the materials reach the discharge point of the stacker and reclaimer. Units used for immediate vessel loading can be quickly re-positioned to take care of the new dust. Smaller misting units, like the DB-Ring and DB-M mini, can apply direct suppression to the discharge point, ensuring no migratory dust escapes.
JOURNEY'S FAREWELL
Once the demolition materials or products are off-loaded at another port, it reaches either another industry for a similar branching process, or it is finally used in its destined project. Here, dust is no longer causing harm to the workers, environment, or community. The demolition materials have fulfilled their purpose, and the DustBoss throughout the Industries journey ends ... but only temporarily.

THE DUST CYCLE CONTINUES
Years will go by at the very same project where the previous demolition materials were used. No dust suppression will be needed, and the community will be safe from dust-related harm. But, large structural projects will eventually be taken down and demolished once again. Dust will erupt during the tear down, and DustBoss will be there at the demolition and throughout all the following industries to protect against harmful dust.
STOP LOADING DUST WITH DUST CONTROL TODAY!
Receive a quick quote and talk to a dust control specialist today to end port facility dust.