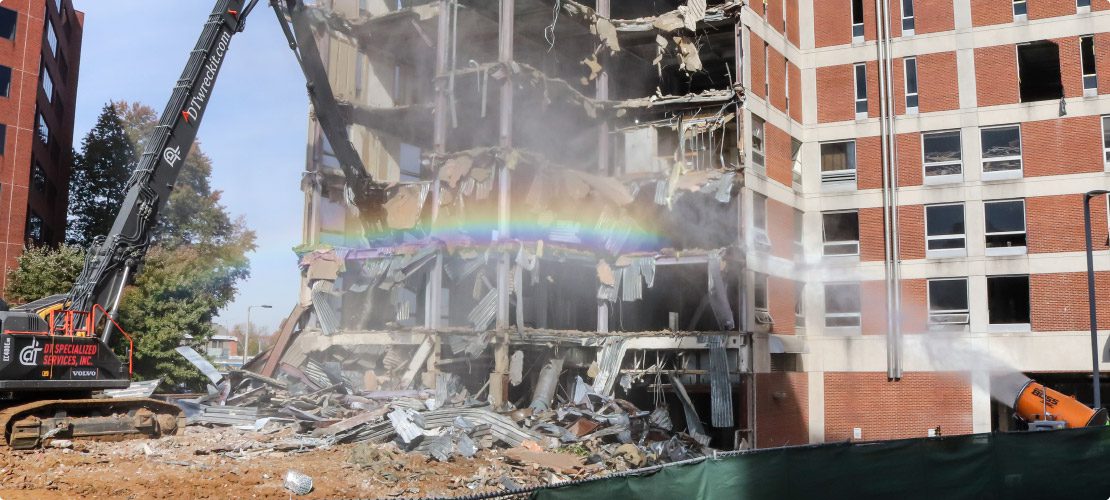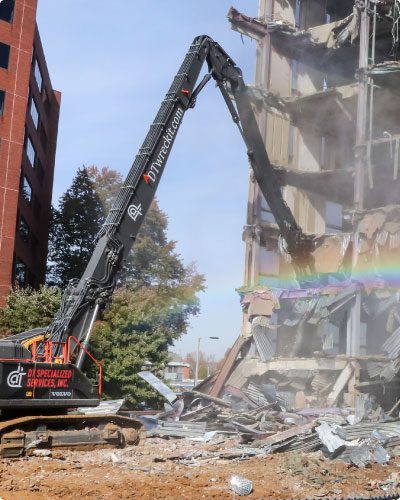 As the leader in dust control technology, BossTek® was enlisted to help the Methodist University Hospital (MUH) in Memphis, TN prepare for a $275 million-dollar facility upgrade by controlling dust emissions during the demolishing of its old facility on the University of Tennessee campus.  The contractor, DT Specialized Services (DTSS), employed the DustBoss® DB-60 Fusion™ to mitigate harmful particulates during the teardown and recycling of the 8-story, 100,000 sq/ft structure.  Forgoing traditional dust control methods of hoses or sprinklers, DTSS's prior experience had shown that atomized mist was the best method to control the smallest airborne dust particles and exceed compliance standards.  This resulted in no reports, complaints, or violations regarding dust emissions from demolition activities, recycling/transportation of construction and demolition (C&D) materials or finishing ground cover efforts.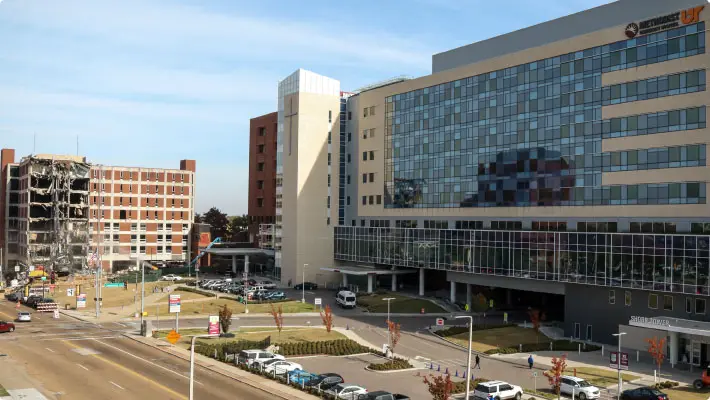 The building was constructed of a steel skeleton, wrapped in precast concrete and brick.  For much of the exterior demo work, DTSS used a Volvo EC380 mid-level excavator with a bucket and thumb, as well as a Volvo EC480 high-reach excavator to access the upper floors.  The company also used a third excavator with a shear attachment and a concrete processor that crushed the brick and concrete and readied it for loadout.
"Implosion wasn't a viable option on this project, due to the possibility that airborne particles could migrate to the air intakes of the other buildings," said DTSS General Superintendent Seth Herber.  "Because there was asbestos fireproofing material used in the original construction, the floors were encapsulated one at a time with plastic wrap, so negative air pressure could be created."
In the past, the simplest and most common methods of airborne dust suppression on demolition sites involved manual spraying with fire hoses or large industrial sprinklers.  To effectively manage the inevitable dust that's created by a project of this scale, DTSS opted for a DustBoss DB-60 Fusion atomized misting cannon from BossTek.
Mounted on a roadworthy trailer, the DB-60 Fusion system uses a specialized barrel design with a powerful 25 horsepower (HP) industrial fan on the back end and a misting ring on the front.  On this project, the 10 HP (7.5 Kw) booster pump drew water from a metered city hydrant and increased pressure to as much as 250 PSI, supplying the circular manifold fitted with atomizing nozzles.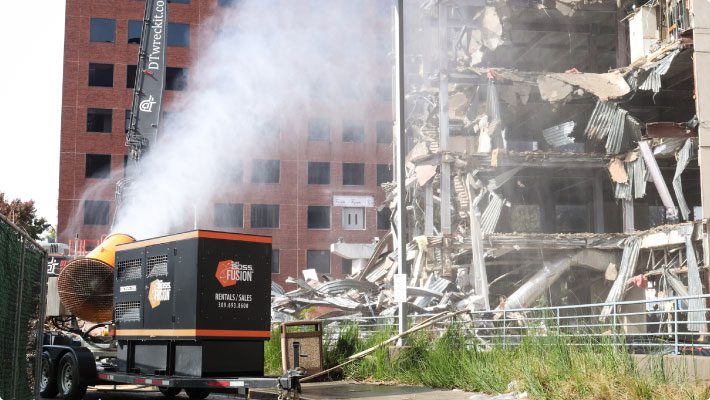 The nozzles fracture the water into an engineered mist, and the fan throws millions of tiny droplets in a 200-foot-long (60 m) cone, covering up to 62,800 square feet (5,834 m2) when using the 180º oscillator.  The unit is powered by a 45 KW generator with a John Deere diesel Tier IV Final-compliant engine, ensuring compliance in all 50 states.  It's fueled by an onboard 100-gallon (378 L) tank that delivers approximately 24 hours of runtime.
Talk to a dust control specialist and get a quick quote for your project.
"The difference between using hoses and using the DB-60 is like night and day," Herber continued.  "Even though the high-reach excavator has a pressurized water system on it to minimize dust during the takedown, there's always a concern about standing water and runoff if we add manual spraying to the mix, especially on concrete surfaces.  That was completely mitigated by using the DustBoss, as it delivers a targeted cone of mist over a huge area, evenly distributing the droplets while using a lower total volume of water."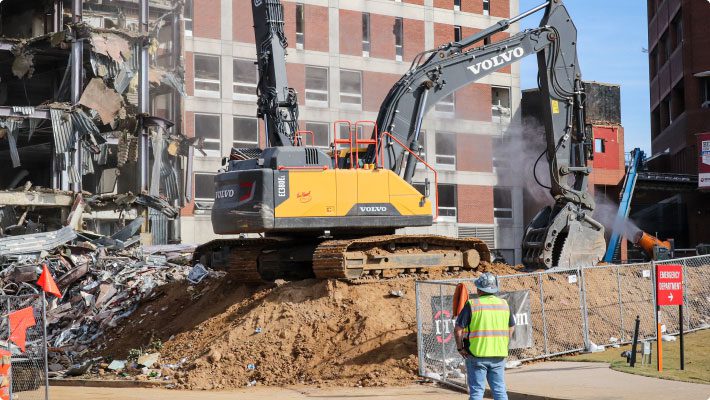 Hoses and large sprayers common to demolition projects typically produce droplets as large as 10,000 microns in size, large enough to create a phenomenon known as the "slipstream effect."  The DB-60 Fusion creates millions of tiny droplets in the 50-200 microns size range – roughly the size of most dust particles generated by demolition projects.  Due to their small mass, atomized mist droplets produce virtually no slipstream and are light enough to travel with dust particles on air currents, increasing the chance of a collision and allowing the droplets to quickly drive dust to the ground. [Fig 1]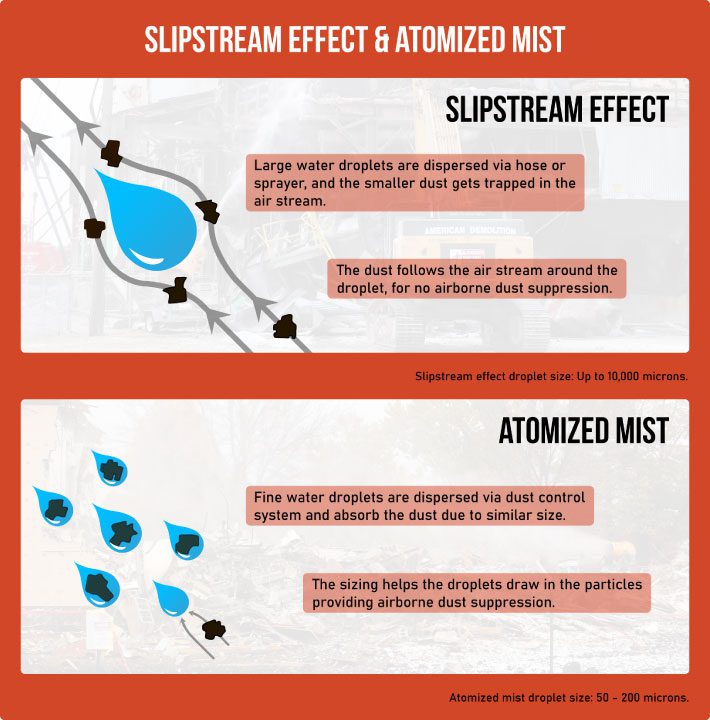 Figure 1 - The Slipstream Effect
Another key feature for DTSS on the project was versatility -- being able to quickly reposition the DB-60 to accommodate the changing worksite and prevailing winds.  "The mobility is great.  Wherever we need dust control as the job progresses, we can get the unit there quickly and have it running in minutes," Herber pointed out.  "The labor savings over hand spraying is dramatic, and the mist is far more effective for controlling particulates, without the inherent risk of being near demolition activity."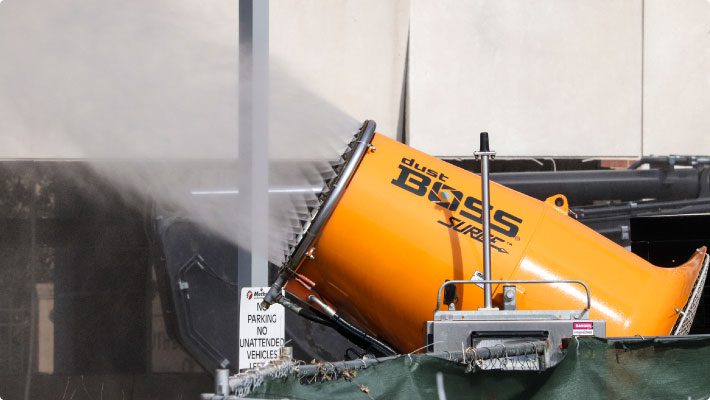 A further advantage to precision dust control is the effect on equipment.  In the past, workers have had to clean excessive dust buildup out of equipment air intakes and radiators to prevent engine breakdowns.  When dust is addressed right at the point of emission, this activity is reduced considerably, saving maintenance time and protecting valuable equipment.  By having a versatile hands-free dust control unit, sites are safer and more compliant, while reducing the overall cost of operation.
"From our perspective, general contractors know we have the suppression equipment in place to ensure compliance and safety, which helps keep the job on schedule and minimize disruptions."

Seth Herber of DT Specialized Services
"The public and the authorities see the DustBoss on-site, and they can tell that the dust is being controlled," Herber added.  "From our perspective, general contractors know we have the suppression equipment in place to ensure compliance and safety, which helps keep the job on schedule and minimize disruptions."
"This was a delicate project, strictly controlled, in a highly urban environment," Herber concluded.  "We were very happy with the performance of the DustBoss, and we received no dust-related complaints on the job."  Once the 9-month demolition was complete, Herber's crew brought in 5,000 cubic yards of dirt to fill and decommission the basement.  Hospital officials report that a beautiful greenspace is planned in the location to serve as the front vista for the new facility.
STOP DEMOLITION DUST WITH DUST CONTROL TODAY!
Receive a FREE quote and talk to a dust control specialist today to end fugitive dust!