Even in isolated construction or demolition projects located in places with little infrastructure, dust can choke worksites and foul equipment.
The low maintenance, direct-drive DustBoss units are paired with a diesel generator and mounted on a trailer for easy hauling to and around job sites that lack a convenient power source.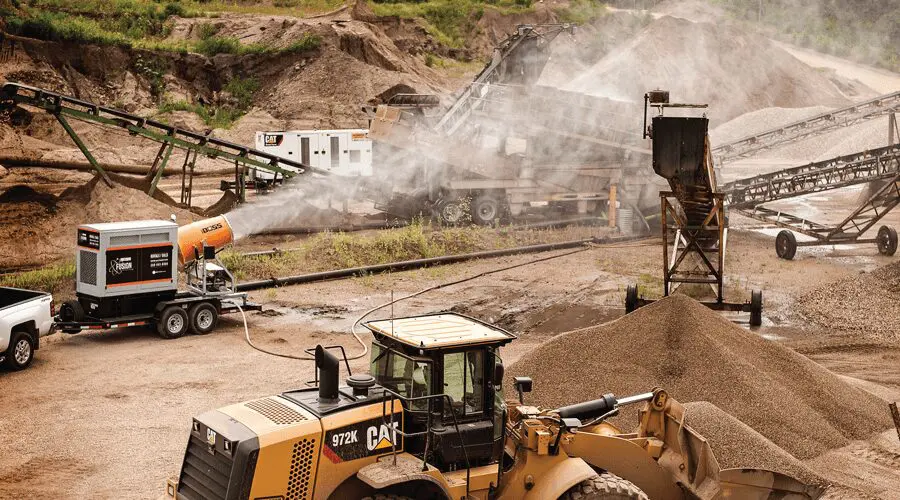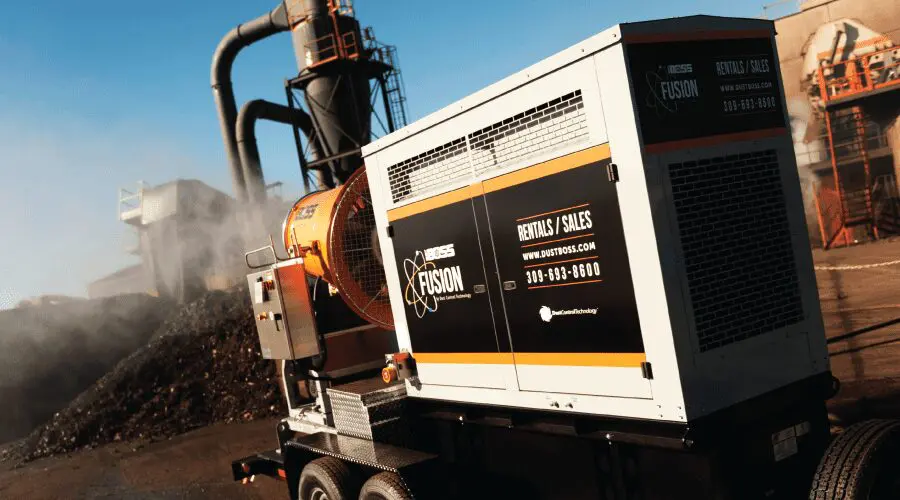 The DustBoss DB-60 Fusion™ pairs the dust control system with a genset featuring a John Deere Tier III Flex engine with a 100-gallon fuel tank, allowing up to 24 hours of runtime.
The DustBoss and gen set are mounted together on a heavy-duty trailer with a steel frame and roadworthy tires for towing at highway speeds. Weighing a total of 6,550 lbs. (2,971 kilos), it can be towed by any vehicle with suitable towing capacity equipped with a Class IV ball hitch.
At just 80 inches (2.03 meters) wide, it can be placed virtually anywhere dust suppression is needed and adjusted based on changes in wind or work activity.
The optional dosing pump is powered from the standard 120V electrical outlet on the gen set, allowing operators to precisely meter surfactants or other additives.
The DB-60 Fusion's versatility makes it suitable for uneven ground, as well as open spaces or tiered terrain.
Full control and maintenance readings are located on a control panel inside the generator. The mobile dust control system does feature a convenient on/off function for the gen set located outside the generator so operators do not need to access the interior to turn it on and off.
The Fusion carries an industry-leading 3-year/3000-hour warranty on the dust suppressor and a 2-year/2000-hour warranty on the gen set.
See the DB-60 Fusion suppress unwanted odors with River City Demolition!

Clear the Air and Get a FREE quote for the DustBoss Fusion!
Let us provide you peace of mind with the most durable dust control solutions on the market. Call us today for a FREE quote!
As the leader in dust control technology, BossTek® was enlisted to help the Methodist University Hospital (MUH) in Memphis, TN prepare for a $275 million-dollar facility upgrade by controlling dust emissions during the demolishing of its old facility on the University of Tennessee campus.  The contractor, DT Specialized Services (DTSS), employed the DustBoss® DB-60 Fusion™
Subscribe and Stay Up-to-Date!
Receive a monthly newsletter keeping you up-to-date on the latest in dust and odor control.