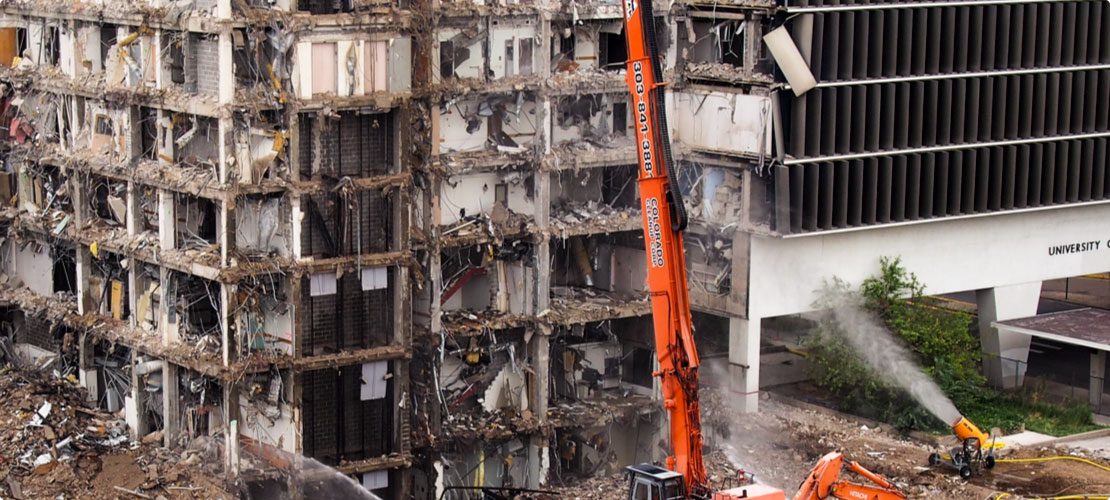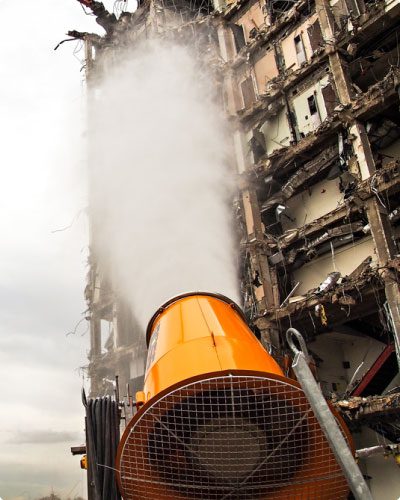 A Colorado demolition firm with a reputation for environmental stewardship on complex large-scale projects has successfully complied with strict urban dust suppression regulations throughout a sensitive 18-month demolition project, from structural implosion to site clearing.  Using two atomized misting cannons to control dust created by the takedown, Colorado Cleanup Corporation (CCC) was able to demolish the University of Colorado's 8-story Biomedical Research building and the University of Colorado Health Sciences Center in the middle of a well-populated Denver neighborhood with zero air quality complaints.
"A project of this magnitude in a densely populated area requires the expertise to know when and where fugitive dust is produced. But just knowing how it's created isn't enough.  You need to know how to stop the dust before it leaves the project site."

Chris Formanek

Senior Project Manager at Colorado Cleanup Corporation (CCC)
Out of the 2.5 million square feet of land containing 13 structures, only one had steel construction, and the rest were poured-in-place concrete.  Thus, CCC employed several different types of machinery, from standard excavators to high reach excavators with hydraulic attachments.  The entire system required CCC to remain compliant with the strict regulations of allowable particulate emissions and control wastewater runoff as mandated by the State of Colorado and further restrictions specified by the municipal permit.
"The two areas in the process that create the most dust are where the concrete breaks and the point of impact with the ground. Large and small chunks of debris would fall into the safety zone, which kicked up a lot of dust. Also, every time the processor uses hydraulic pressure to break the concrete, it creates a plume of dust. This usually happens high up, so the particles can travel pretty far. We needed a method that effectively controlled dust in both of these areas."

Chris Formanek

Senior Project Manager at Colorado Cleanup Corporation (CCC)
Formanek cited the misting cannons from BossTek (Peoria, IL) as a key to the project's success.  Having seen the company's DustBoss® atomized dust suppression in trade magazines and at industry conferences, project leaders contacted the manufacturer for more information.
Either mounted on a roadworthy mobile carriage or a heavy-duty metal skid, the DustBoss model DB-60 has a specialized open-ended barrel design with a powerful 25 horsepower (HP) industrial fan on one side and a misting ring on the other.  A 10 HP (7.5 kW) booster pump sends pressurized water through a circular manifold fitted with atomizing nozzles.  The nozzles fracture the water into an engineered mist that throws millions of tiny droplets in a 200-foot-long (60 m) cone.
The mist can be directed at a specific activity or fanned out over a large area using the 359º oscillator, which allows the machine to cover approximately 125,000 square feet (11,613 m2) in calm conditions.  Powered by a 60 kW diesel generator set, the machine's functions are controlled either via digital touch screen display mounted on the unit, by remote hand-held device or by PLC (Programmable Logic Control).  This makes it easy to be adjusted by workers on the ground or even by excavator operators.
Talk to a dust control specialist and get a quick quote for your project.
"It created a big curtain around the zone where we directed it, which pulled the dust right out of the air. It covers a large area and does a great job. We especially like how little water it uses."

Chris Formanek

Senior Project Manager at Colorado Cleanup Corporation (CCC)
The DB-60 uses only 12 gpm (45.4 lpm) to 26.7 gpm (101.1 lpm), depending on the water source, however, CCC had access to municipal hydrants, which provided more volume and pressure.  Using a 1-½ inch (38.10 mm) cam-and-groove quick disconnect female coupling for the hose, the unit only needs 40 PSI (0.69 BAR) delivered to the booster pump.  The low PSI requirement allows the machine to be far away from the source, while still providing effective airborne dust control and surface suppression.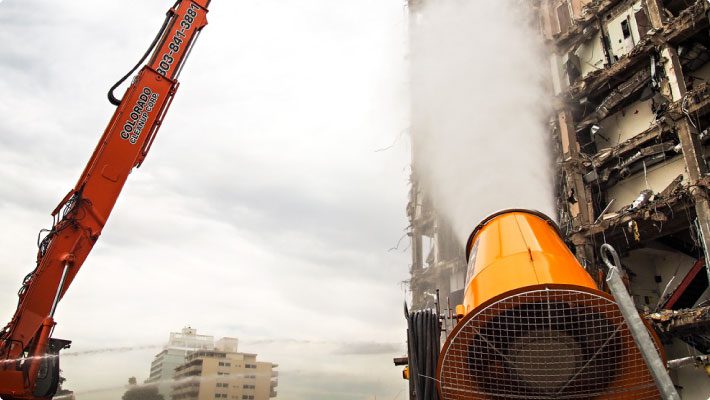 RESULTS
With multiple buildings being demolished at once, the two units were shared across the site and placed at critical areas using only a pickup truck or small ground vehicle to move them.
During the demolition project, the company received no complaints about fugitive dust caused by standard demolition operations.  No dust migration was observed outside of the site boundary, and readings from both the perimeter monitoring machines and the workers' personal dust monitors registered below required thresholds throughout the project.
"We were impressed by how effectively the DustBoss worked, even high up. The versatility is key to our operation, so with a few minutes of set up and adjustment, we essentially just turn it on and walk away."

Chris Formanek

Senior Project Manager at Colorado Cleanup Corporation (CCC)
STOP DEMOLITION DUST WITH DUST CONTROL TODAY!
Receive a quick quote and talk to a dust control specialist today to end fugitive dust!