Misting cannons are one of the most effective methods of industrial dust control available today. Their use of mist backed by a powerful throw helps dominate migratory dust.
DustBoss dust control systems use atomized mist to capture fugitive dust roaming in the air. This fine mist takes advantage of the similar sized dust particles to create a compelling dust suppression solution.
With this water-based dust control, having potable water on-site is essential to running DustBoss systems. If only non-potable water is available, contact a dust control specialist to install a bag filter and determine the appropriate configuration based on the water source available.
At its core, all DustBoss cannon units need the proper connection and water pressure (PSI) to deliver effective dust control via atomized mist.
Water requirements vary based on the size of the unit. The smallest dust control cannon, the DustBoss DB-30, calls for a different set of water specifications than its larger counterparts with the DB-60 and DB-100. It's important to consider the needs for each specific unit being run on site.
This small dust control cannon uses atomized mist to provide coverage to smaller job sites with easy positioning through a standard 3-wheeled carriage.
Connection: 5/8" Garden Hose
Available Water Pressure: 10 - 100 PSI

Recommended Pressure: 50 - 80 PSI
The DB-60 is the standard unit in the dust control industry. With over 60 meters (200 feet) of throw and built in oscillation, the unit covers up to 2 football fields in dust trapping mist.
The DB-100 is the beast of the dust control industry. With over 100 meters (328 feet) of throw and standard 359° oscillation, the unit covers up to nearly 5 football fields in atomized mist.
Connection: 1 1/2" Cam and Groove Fire Hose
Available Water Pressure: 40 - 100 PSI

Recommended Pressure: 50 - 80 PSI
Contact one of BossTek's dust control specialists to determine the appropriate water supply.
The water requirements are applied to standard and Fusion DustBoss units.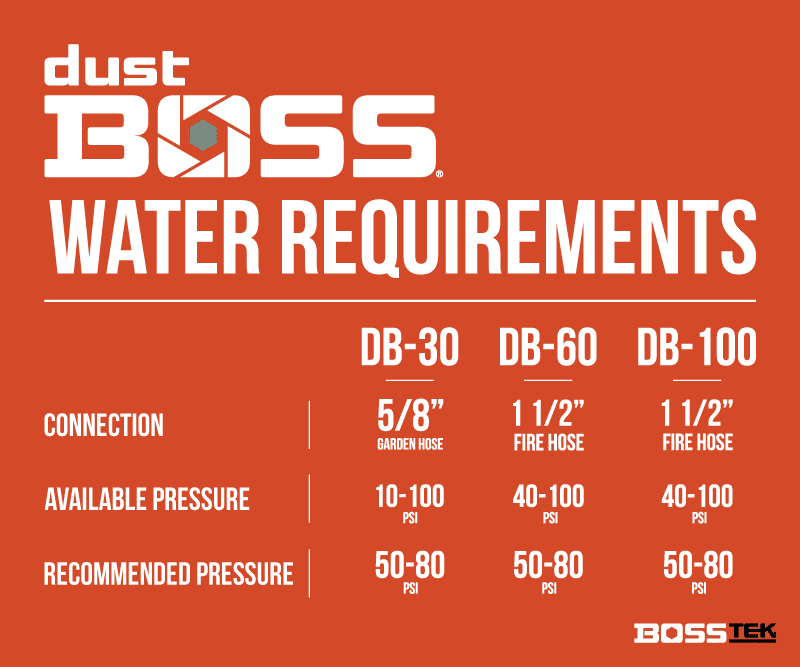 Determine optimal water supply!
Talk to a dust control specialist today and determine the ideal water supply for your job!
Dust big and small can be a pain on industrial job sites, but those pesky, moving fugitive particles are especially irritating. This umbrella term "fugitive dust" refers to dust particles that like to escape into the air without a directed location to be collected in. The dust expands out into the open air, and if… Continue Reading
Subscribe and Stay Up-to-Date!
Receive a monthly newsletter keeping you up-to-date on the latest in dust and odor control.