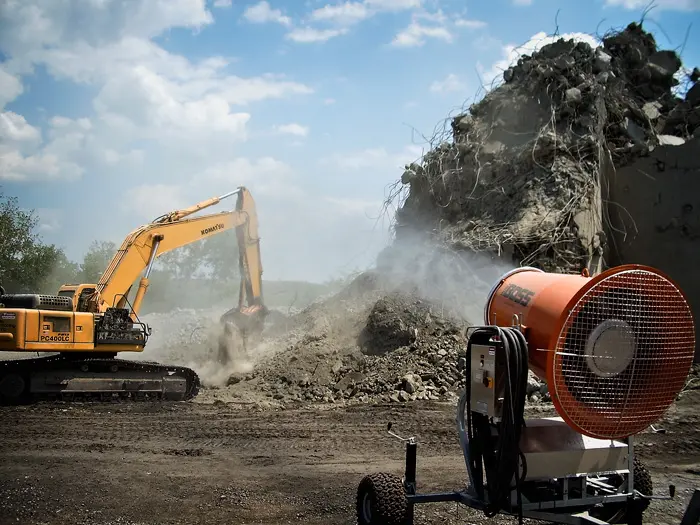 Demolition of sixteen storage silos at the Essroc Cement Plant in Martinsburg, WV (US) would have been a complex project under any conditions:
Eleven structures, 26 feet in diameter and 45 feet high
Another five clustered together, measuring 26 feet in diameter and 80 feet tall
Several additional buildings, varying in height from one to three stories and with an average footprint of about 25,000 square feet
But what really complicated this project was the fact that all of the silos were still 75 percent full of sand, powdered cement, and aggregate.
"With the MSHA representative on-site, it was very important that we achieve our dust suppression goals."

- John Sisto
President
The potential fugitive dust volume was staggering and demolition engineers at Dallas Contracting needed proven dust suppression as a key element of the company's site-specific HASP work plan and detailed demolition notice submitted to the West Virginia DEP.
After reviewing several dust control techniques, the company selected two DustBoss model DB-60 units as the best option for dust management on the project. The oscillating carriage-mounted machines were outfitted with portable generators for added flexibility, allowing them to be located wherever they were needed most on a given day.
"The demolition of the silos was a potential dust pollution nightmare," said Dallas Contracting President John Sisto. "But we were very pleased with the effectiveness of the DustBoss units."
The DB-60 boasts a throw of more than 200 feet (over 60 meters) and an oscillating ducted fan that can cover more than 20,000 square feet of area (about .2 hectares) from a single location.
Critical to the design's efficiency is its ability to balance the size, spray pattern, and velocity of dust-trapping water droplets, atomizing them to 50–200 microns so they will deliver maximum dust attraction while remaining large enough to achieve good carry.
The demolition project
Dallas Contracting crews used several different pieces of heavy equipment to demolish the silos and other buildings, including a Komatsu PC 450 LC with a fabricated steel rake attachment, a Komatsu PC 400 LC with concrete pulverizer and a Komatsu 300 with pulverizer.
The firm also employed a wheel loader with 5 cubic yard bucket and a CAT 236 skid steer loader. A 200-ton P&H lattice boom crane took the 80-foot silos down to 40 feet, so the PC 450 excavator could safely complete the process.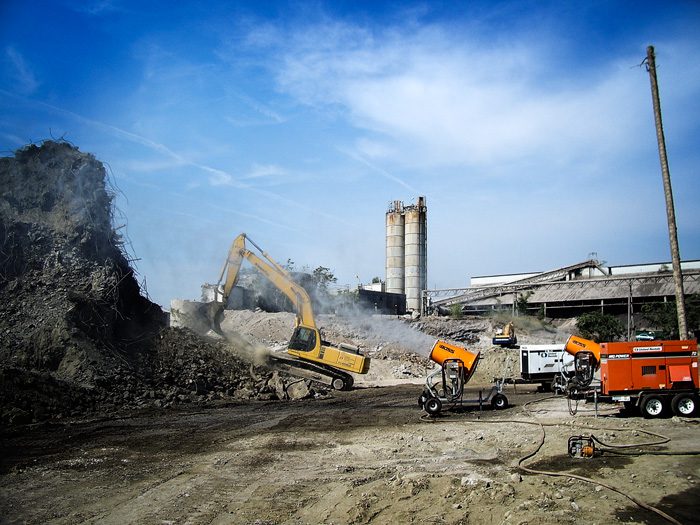 The concrete silos were constructed with a substantial amount of rebar, with inner I-beams for additional reinforcement. As they were demolished, scrap metal was sorted from the debris and loaded into containers, then sent off-site for recycling.
Demolished concrete was placed in a stockpile for crushing while sand and cement was trucked to separate storage areas. Once the structures were all leveled to grade, Dallas Contracting proceeded with a massive excavation to remove all additional buried footings, foundations, and underground structures to make room for new pilings and foundations that will be part of Essroc's $320 million site renovation.
In all, more than 150,000 yards of material was excavated, sorted, transported and stockpiled. The entire four-month project was completed without a single safety-related incident or injury.
"With the MSHA representative on-site, it was very important that we achieve our dust suppression goals," said Sisto. "Thanks to the excellent control from the two DustBoss units, we didn't receive any dust-related complaints. We would definitely use them again on a project of this nature."
CUSTOMER
Dallas Contracting Company
South Plainfield, NJ (US)
LOCATION
Essroc Cement Plant
Martinsburg, WV (US)
CHALLENGE
Determine a method for suppressing dust from the demolition of 16 storage silos from a cement production facility, some of which were filled 75 percent or more with sand or cement. The sheer volume of the dust posed a significant challenge to prevent hazards to demolition crews, remaining plant employees and the surrounding environment.
SOLUTION
Dallas Contracting utilized two DustBoss® 60s (DB-60s) to help suppress dust. The portable oscillating units atomize water droplets to the optimum size for superior particle attraction and dust/odor control.
RESULTS
Twin oscillating DustBoss units were strategically located for the greatest possible coverage, creating a dust barrier between the demolition area and the remaining plant structures, which continued operation during the process. The patent-pending units were equipped with portable generators for greater flexibility, and proved so effective that not a single complaint was received from the on-site MSHA representative, plant employees or the surrounding community.
ESSROC
is a leading North American cement producer headquartered in Nazareth, PA, (US) with an annual capacity of seven million metric tons. The company is a member of the Italcementi Group, based in Bergamo. Italy, one of the largest cement producers in the world.
DALLAS CONTRACTING
is a full service demolition contractor that operates throughout the United States. The firm has grown to be one of the nation's leaders in commercial and industrial wrecking services, with more than 28 years in the business and hundreds of successful industrial and commercial demolition projects, including on-site concrete crushing, salvage and scrap metal reclamation.
Stay up-to-date on dust control applications...