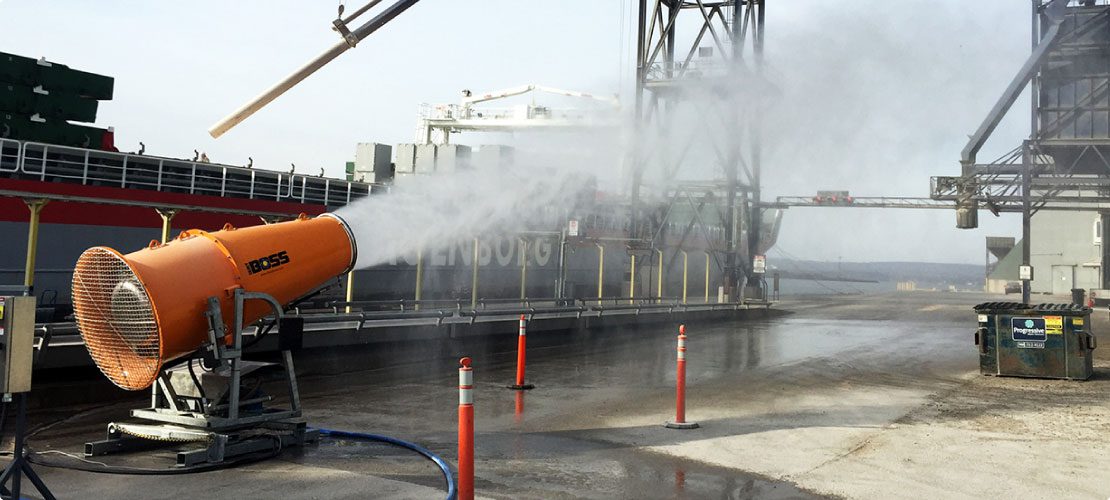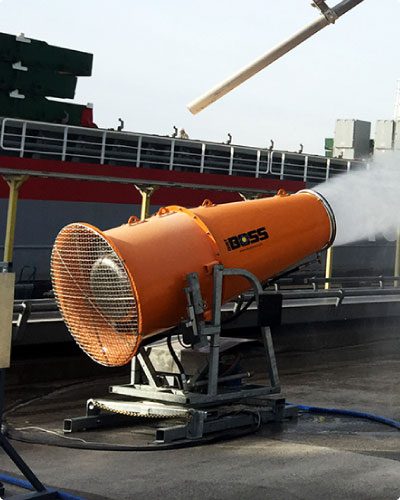 [Las Vegas, NV] -- A global leader in open area dust suppression will formally announce its new and largest design when the DustBoss DB-100 is introduced at MINExpo 2012, held September 24-26 in Las Vegas.  Engineered specifically to deliver the power to reach the working face of an open cast mine or large quarry, the new dust suppressor has a range of more than 100 meters, giving it ample reach to cover material stockpiles 200-300 feet high.  The giant atomized misting unit from BossTek (Peoria, IL) stands nearly ten feet tall, and can cover a massive area of 280,000 square feet (more than 26,000 square meters) from a single location (that's almost SIX football fields).
The DB-100 was designed with input from some of the leading mining companies in the world, with data collected from numerous site visits, where visibility around massive working areas can be profoundly impacted by dust.  "Most operations use water trucks to wet down haul roads before trucks enter the area for loading," observed BossTek Vice President Aaron Valencic.  "Unfortunately, the technique is only marginally effective on surface dust, and it has no effect at all on airborne particles."
Water trucks also don't address dust from the loading operation itself, as their reach is limited only to the area around the driving surface.  "This new unit will reach all the way to the working face, knocking down dust from the shovel right as it picks up or drops material," he said.  "With the improved visibility and air quality, mining companies can maintain a safer and more productive workplace."
According to CEO Edwin Peterson, the unit was developed specifically for large-scale mining, coal operations and bulk material handling.  "It was originally an idea of our late co-founder, Barry Brown," Peterson explained.  "He had the vision to create a mine-grade open-pit dust suppression design that was extremely powerful and exceptionally reliable. Although he didn't get to see it built, I know he'd be proud to see it become a reality."
Peterson said that in applications such as mining, which require high dependability even under extreme working conditions, the simplest designs are usually the most successful.  "During the design phase, we talked with mine managers, maintenance staff and supervisors to see what was most important to them," he continued.  "The range and performance were key, but nearly every one of them also stressed reliability.  Downtime is very expensive, and they want to spend their days on core activities, not dealing with equipment breakdowns."
To address that need, BossTek engineered an extremely rugged and efficient design.  Like all of the company's fan-driven atomizers, the DB-100 delivers both power and dependability by using a straightforward, direct drive fan motor.  It has no drive belts, diesel engines or complex worm gear systems that could present breakdown problems in the difficult service environment of a mine or coal yard.
Despite its impressive size, the DB-100 requires minimal maintenance, with lubrication of fan motor bearings recommended every 10,000 hours, while the oscillation motor is lubricated for life.  All DustBoss models are covered by an industry-best 5-year / 5,000 hour warranty and complete satisfaction guarantee.
PROTOTYPE PROVES SUCCESSFUL
BossTek made the announcement today after extremely positive trials at a large coal handling operation, where migrating dust was creating a nuisance.  The DB-100 demonstrated its effectiveness in managing dust from the facility's stockpiles, which had proven too large for a competitor's dust suppression equipment previously tested by the utility.
The new design represents the culmination of two years' development time, and is based on 40 years of engineering experience in atomized mist technology.  "Effective dust suppression is a complex equation," Peterson said.  "In addition to droplet size and air speed, there are dozens of variables that affect a machine's performance.  The size and precise shape of the barrel are critical, for example, as a successful design must control the laminate air flow to achieve the optimal plume and distance.
"But the design really is the sum of all its parts, in that every component is specifically engineered to maximize performance.  That includes the integrated fan and nozzle components, inlet valves, propellers, vanes, pumps and filters.  Failure to optimize any one of those details will detract from the unit's effectiveness."
The new machine's 60 HP fan is fed by a manifold of 30 brass nozzles that are specifically sized and positioned for the new design.  The DB-100 features simple, user-defined 359º oscillation, along with adjustable elevation from -7º to 45º.  It can also be outfitted with a dosing pump to accurately meter in surfactants or tackifiers to further enhance binding of dust particles.  A 10 HP (7.5 KW) booster pump elevates water pressure as high as 200 PSI for outstanding droplet production, and the DB-100 can be set up to run potable or non-potable water.
A wye delta starting system reduces initial energy requirements, and BossTek recommends a minimum of 10 PSI water pressure.  The units include an in-line filter and 1-1/2" cam-and-groove quick disconnect female coupling.  They can be ordered with international motors to meet standards for any location around the world.
Because it can run unattended for long periods, the DB-100 can free up manpower and equipment by eliminating the need for water trucks or sprinklers, delivering a short payback period for many users.  The versatile device is also well suited to automated control, and can be wired to operate according to a wide range of sensor inputs, including weather conditions and even specific air particulate levels.
Any DustBoss is available with the company's proprietary Variable Particle SizingTM technology, providing customers with a wide selection of different nozzles for suppressing a broad range of airborne solids.  Matching droplets to dust particle sizes.
BossTek has also announced that its first DB-100 production model will be available for sale at MINExpo 2012, with all profits from that unit donated to the Illinois CancerCare Foundation in honor of Barry Brown, a founding partner of the company who lost his battle with cancer in 2010.  The Illinois CancerCare Foundation, in collaboration with Illinois CancerCare, helps bring the latest nationally renowned clinical cancer research trials to central Illinois.
Recognized in 2007 by the American Society of Clinical Oncology as one of the top 10 community research centers in the U.S., Illinois CancerCare delivers leading-edge patient care and participates in nationwide research to help further the battle against cancer and blood diseases.  Donation details will be available in booth 513 of the North Hall at the Las Vegas Convention Center throughout the MINExpo event.
BossTek is a global leader in dust management solutions, with expertise in mining, coal handling, steel, ports and shipping, scrap, material recycling and demolition.  The company specializes in atomized mist technology, with its entire focus on atomized misting equipment for dust suppression and evaporation.  All of the firm's R&D, experience and expertise is centered completely around those applications, and its staff helps customers analyze particle sizes, working environments and other factors to ensure effective performance under real-world conditions.  The units are far more effective and efficient than manual spraying, with some customers realizing payback in less than six months.  BossTek equipment carries the industry's longest warranty, and can be purchased outright or rented from an extensive fleet of dust suppression equipment.  bosstek.com
IMPLEMENT THE DUSTBOSS DB-100 TODAY!
Receive a quick quote and talk to a dust control specialist today to end fugitive dust!