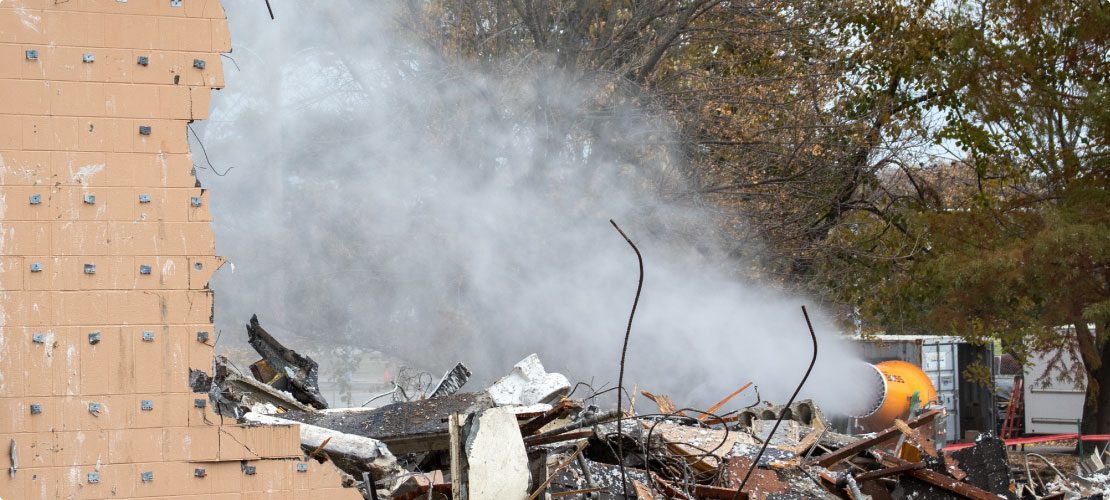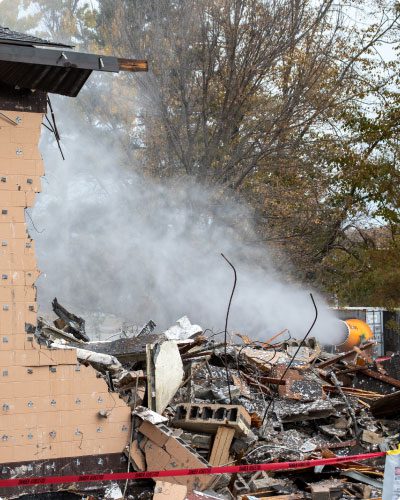 Military contracts can be difficult to secure, and general contractors need to display an ability to complete the job in a timely manner, maintain a safe workplace and comply with the environmental standards required for each phase.  Knowledge, reputation and reliability made DMS Contracting, headquartered in Mascoutah, IL, the right choice for a demolition project at an Illinois military base.
Six buildings once used as barracks housing hundreds of soldiers were transformed and expanded into a hotel for visiting family, dignitaries and soldiers on temporary assignment.  Project leads chose a prime contractor for the construction phase, and DMS won the bid as a subcontractor for demolition on the 8-acre site.
"We've done several municipal and state contracts around the area, including building roads and bridges, so we know what Illinois EPA (IEPA) inspectors will likely want to see on any demo project from an environmental perspective."

Josh Mazander of DMS Contracting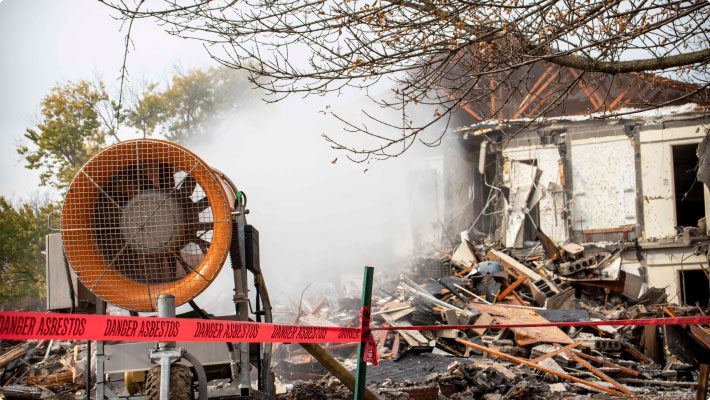 Built in different eras, some buildings were constructed of hollow-core cinderblock with beams, while others were wood.  With an 8-month schedule for demolition, DMS used four excavators with different attachments. One had a hydraulic multi-processor with a concrete cutter jaw that broke concrete and made easy work of metal support beams.  Others had interchangeable buckets and accessories that helped take down, sort and load the debris into waste containers to be covered and transported to either the local recycling facility or landfill.
"Our goal was to wrap up this project well before the end date to allow the next phase to get an early start, but there were dust issues that required abatement," Mazander explained.
Watch how DMS Contracting uses dust suppression to maintain compliance!
MAINTAINING COMPLIANCE
Although much of the dust is not considered harmful, many of these emissions can contain traces of HAPs, from asbestos to silica, which need to be mitigated at the point of emission and prevented from becoming airborne.  Currently, the most common method to control airborne particles is by using water.  "Field studies have shown that for water droplets to most effectively control particles, they must be roughly the same size," commented BossTek VP of Sales Mike Lewis.  "The size and velocity of a droplet can cause air to rapidly move around it, referred to as a 'slipstream.'  Hoses create droplets that average 200-1000 μm in size, which is large enough to deflect airborne particles, causing them to stay aloft rather than fall to the ground."
In contrast, atomized mist droplets -- ranging between 50 and 200 μm in size -- linger in the air and create virtually no slipstream, facilitating collisions with airborne particles and driving them to the ground.  Atomized mist also settles lightly on material surfaces, offering ground-level suppression without soaking the substrates.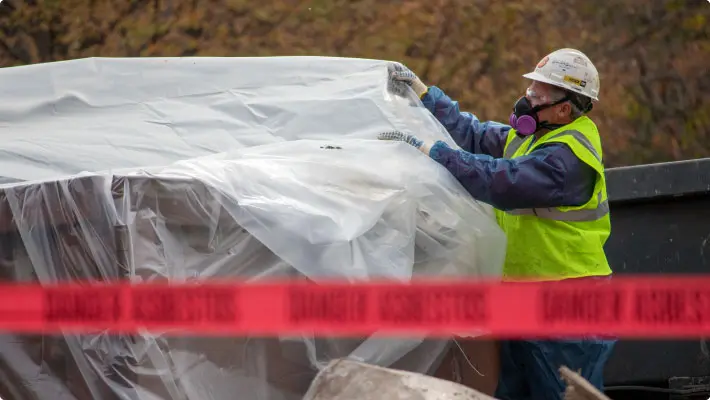 Illinois EPA (IEPA) regulations restrict particles of ≤10 μm in size from leaving the site line of a demolition project.  Moreover, the Occupational Safety and Health Administration (OSHA) regulates the exposure of workers operating around activities that produce harmful dust such as that emitted by crushed concrete (silica).  The primary difference with military guidelines is establishing "the case-by-case maximum achievable control technology (MACT) determinations required by Section 112(j) of the Clean Air Act."[1]  This stipulates that contractors should seek the best control method possible in order to suppress airborne particulates.
Talk to a dust control specialist and get a quick quote for your project.
"We needed to find a mobile and versatile dust control method that we could position wherever needed and just walk away," Mazander said.
"It had to be highly effective in suppressing airborne dust, so when I read about atomized mist, I realized we'd found what we were looking for."
Some demolition contractors are still depending on antiquated methods of dust control by assigning a worker to manually spray the operating area, locating the worker near the machinery and hazardous debris drop zone.  For a hose to create the amount of pressure needed to reach high up to the level of the activity requires an excessive amount of water, approximately 50-100 gallons per minute (GPM) (189-378 lpm) depending on the height of the spray and the size of the hose.  Moreover, the residual runoff and pooling from large volumes of water can raise issues with inspectors.
MIST CANNONS
Atomized mist technology is considered MACT because of its superior ability to capture airborne particulates and pull them from the air using a fraction of the water.  The specialized cannons with front-mounted nozzle manifolds fracture pressurized water into a mist that is propelled by the high-powered fan in the back.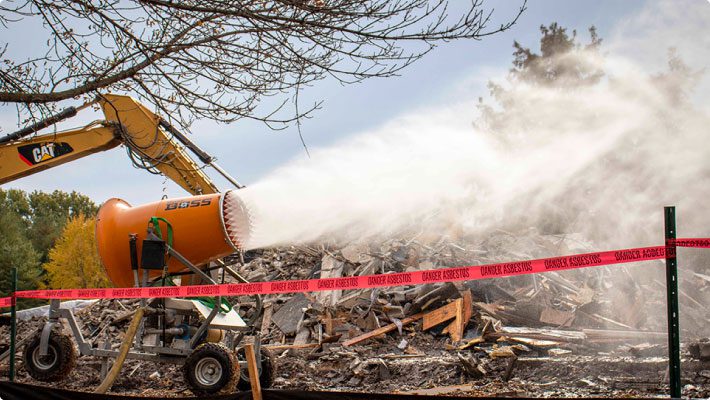 Mounted on a roadworthy mobile carriage, the DustBoss® DB-60 has a powerful 25 HP industrial fan generating 30,000 CFM (849.50 CMM).  Water is pumped through 30 atomizing nozzles that fracture the droplets into an engineered mist that's distributed in a 200-foot-long (60 m) cone-shaped pattern.
The mist can be directed at a specific activity or used to raise the humidity level over a large area using the 40º oscillator and 0-50º vertical height adjustment, which allows the machine to deliver approximately 21,000 square feet (1,950 square meters) of coverage.  Capable of covering as much as 125,000 SF (11,613 sm) when equipped with optional 359º oscillation and consuming only 12-18 GPM (45-71 lpm), the DB-60 limits runoff and pooling associated with other water-based suppression methods.
The unit can be controlled either by a digital touch screen display housed in a sturdy NEMA 3 cabinet on the machine or via a remote hand-held device, so the settings can be easily adjusted by workers on the ground or by nearby excavator operators.  DMS powered the unit using a 3-phase diesel generator mounted on a separate trailer and drew water from the local hydrant system.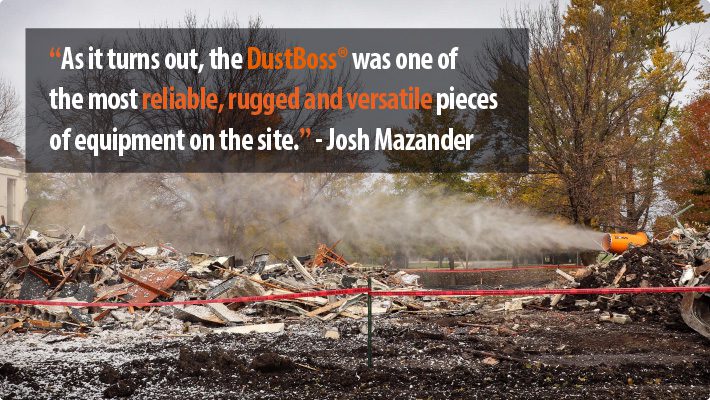 RESULTS
Using a pickup truck or side-by-side to move the DB-60 to various points on the site based on activity and winds, operators were able to properly position the unit and adjust the settings for maximum coverage.  While the machine operated independently, workers were able to perform other duties until a change was needed.
Operators report that the powerful fan allows the mist to cover the entire operational area, offering both topical treatment and airborne dust suppression.  Disruption of settled dust by loading and separating material was also well-mitigated by the unit, allowing all stages of the operation to be compliant with little worker exposure to machinery or debris.  This improved safety on the site and reduced the cost of operation.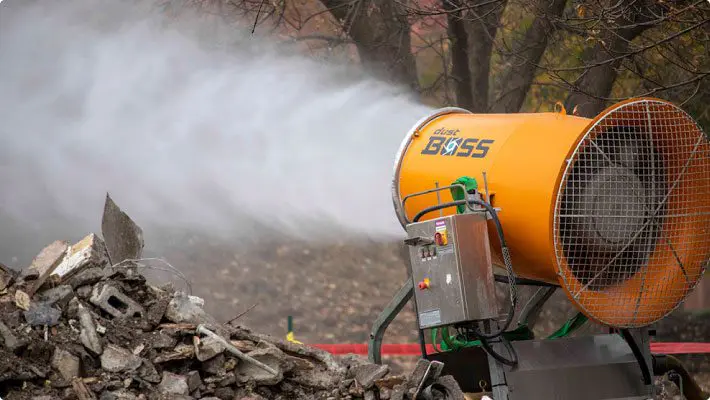 "As it turns out, the DustBoss was one of the most reliable, rugged and versatile pieces of equipment on the site," Mazander concluded.  "It's a great tool that's maintenance-free and a pleasure to work with.  We had no issues with dust and no emission-related violations."
ENLIST DUSTBOSS TO MAINTAIN COMPLIANCE!
Receive a FREE quote and talk to a dust control specialist today to end fugitive dust.