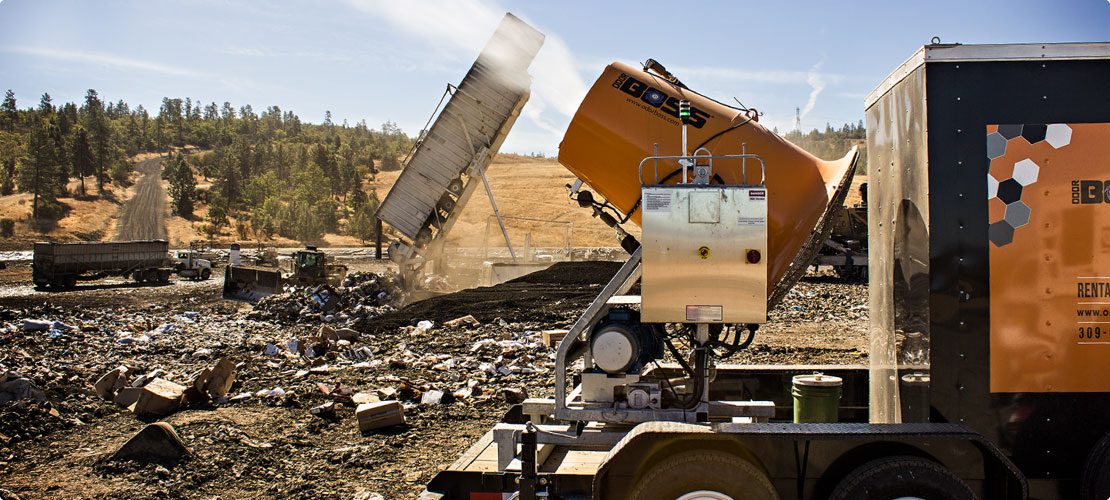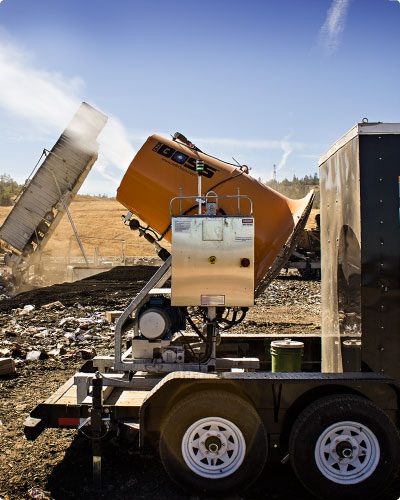 Odor emissions can constitute "a physical, tangible invasion" of private property, according to court precedent.
Property owners can be awarded damages from "nuisance, trespass and negligence" due to industrial odor emissions from a nearby landfill.
This is significant because prior to establishment of this precedent, plaintiffs suing for odor emissions needed to prove physical damages to their property or surrounding areas, such as soil or ground water contamination.
However, now a company can be considered "trespassing" onto private land through odor emissions, resulting in loss of enjoyment of the property or hindering the property owner's ability to rent or sell.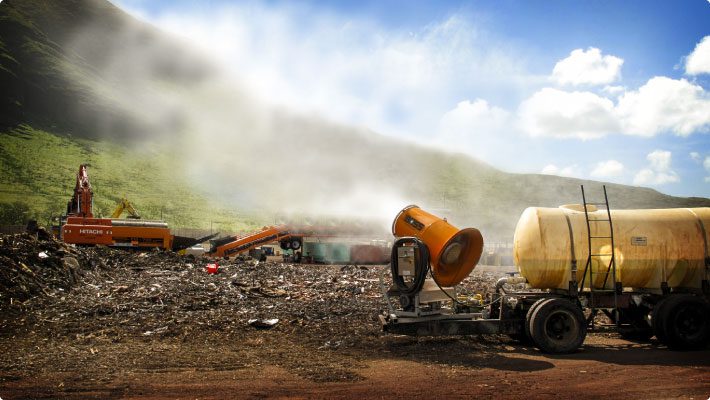 The OdorBoss Topical (OB-T) treats surfaces, while the OdorBoss Gaseous (OB-60G) treats the air.
DUST SUPPRESSION MEETS ODOR CONTROL MISTING PRINCIPLES
To avoid trespassing, industries such as landfills, livestock, and fertilizer manufacturing are now seeking technology that can control industrial odor emissions.
One method uses atomized mist as the vehicle to disperse various treatments over a large coverage area. To atomize a substance is to convert it into very fine particles and atomized mist contains tiny water droplets converted from larger ones.
We use atomized mist technology for our DustBoss line of dust suppression equipment. The reason atomized mist is so effective in dust suppression is that water droplets and airborne dust particles are more likely to collide when they are around the same size.
In contrast to common wet methods of dust control such as sprinklers and hoses, atomized mist technology is not only more effective, but it uses less water.
Less water means less money, pooling of water, and runoff — benefits that now can be realized in the industrial odor space...
Introducing the OdorBoss Gaseous (OB-G) and OdorBoss Topical (OB-T).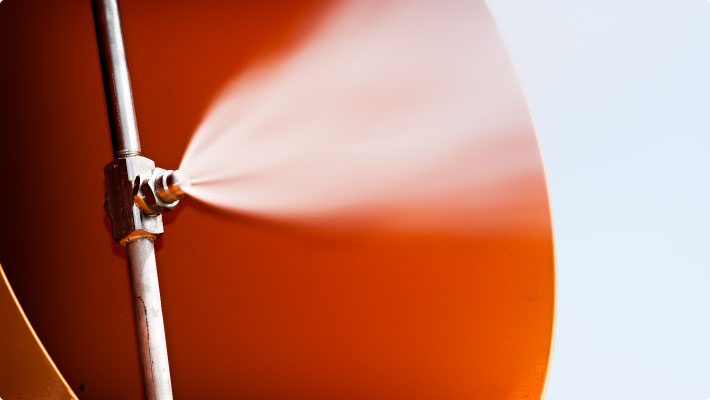 TWO ODOR CONTROL STRATEGIES
The two separate OdorBoss machines represent two strategies at fighting odor: ground attack or an aerial assault.
The OB-T with surface treatment deodorizers is designed to attack odor at the source. The OB-T can be fed from a hose with a dosing pump cycling through the deodorizer. Alternatively, it can be paired with a water tank for premixing, both of which are placed on a trailer for mobility.
Topical treatment deodorizers are designed to land on odor producing surfaces, nullifying the odor before it becomes airborne. This method is extremely effective, but not always economically feasible for larger coverage areas or when the material is disturbed often.
The OB-G is used when surface treatment is not practical. Too often, air treatment means perfumes shot aimlessly in the air with no consideration of type or weight of odor, or any other physical and chemical characteristics.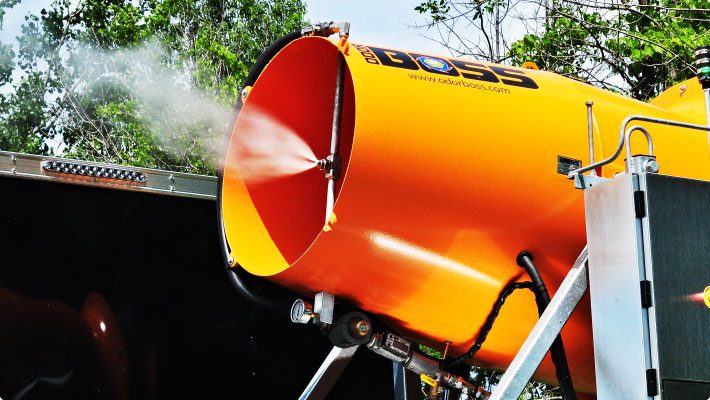 The OdorBoss implementing odor control by changing the chemical make-up of the odor to a non-smelling gas.
Molecular contact is necessary for any chemical change to occur. Consequently, it is vital that the molecular weight of atomized particles of treatment be similar to the molecular weight of the odorous gases so that the deodorizer rises in the air at the same speed as the targeted gas. Therefore, the OB-G produces smaller droplets than the OB-T so that the deodorizing solution can itself convert into a gas.
Compressed air pushes the treatment solution through the Odor X Atomizer™, a specifically-designed micro nozzle that fractures the liquid into droplets as small as 15 microns. The mist travels with atmospheric air currents, propelled by the fan.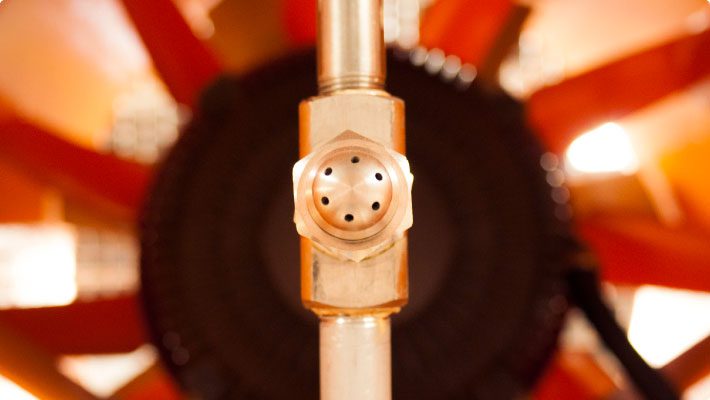 The OdorBoss Gaseous Odor X Atomizer produces tiny water particles to carry air treatment into the atmosphere where it can convert into a gas.
New odor control technology is emerging at the right time as the courts carve out more avenues for property owners to collect damages due to odor. Awards from civil suits surrounding odor can now potentially exceed fines from the Environmental Protection Agency (EPA). Investing in the right odor control now can prevent trespassing and save a company millions.
IMPLEMENT ODOR CONTROL AT YOUR JOB SITE!
Receive a quote and talk to a dust control specialist today to stop fugitive dust!