Automated Dust & Odor Systems
Maximize Efficiency with Automation and Remote Capabilities.
Providing various options to make controlling BossTek units easier from anywhere on the jobsite, industrial remotes are implemented for long distance command.
Integrated automation allows for self-regulating adjustments for multiple units, adapting to various elements.
Why Automate?
Quickly and easily adjust the equipment to respond to changes in wind direction and changes in process.
Decreased energy cost due to reduced run time.
Improved profitability due to more dust suppression in less time with less effort = increased revenue and decreased costs.
Increased efficiency due to no set up and take down time by using fixed position machines.
The "basic" remote gives the ability to turn the entire machine on/off. The fan, water, oscillator, and booster pump all turn on and off at essentially the same time (slight programmed delay to protect booster pump).
Simplistic Functionality
Turn all functions of the DustBoss on/off at same time
Control up to 6 machines
Range - 400 ft.
Contact Us
Contact BossTek to add the Basic Remote to your suppression cannons!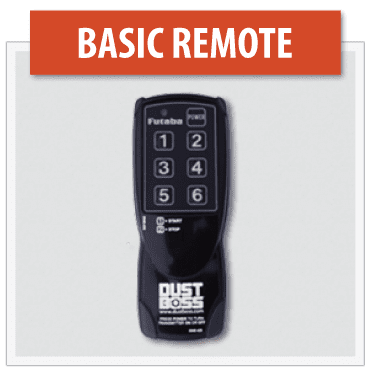 The "deluxe" remote provides a control box with multiple buttons to control individual functions of the machine.
Control all individual functions on machine including:

fan/water
oscillation
booster pump
vertical adjustment jack

Control up to 16 machines
Range - 1,000 ft
Contact Us
Contact BossTek to add the Deluxe Remote to your suppression cannons!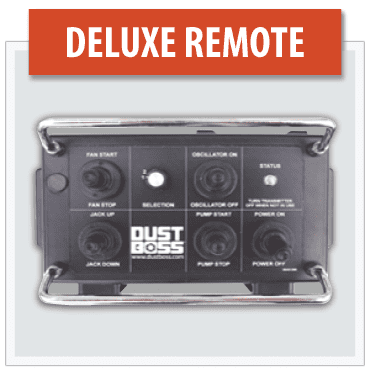 Smart H2O integrates all dust control components into a user-friendly interface that can be tailored to your needs. The system has been developed and proven over a decade of use to provide a versatile, menu-driven system to optimize dust suppression activities.
Customize control to fit specific needs
Start, stop & monitor DustBoss equipment and auxiliary components
Control one unit or a hundred
Adjust direction & oscillation patterns
Automate usage based on wind and weather conditions
Contact Us
Contact BossTek to add Smart H2O to your suppression cannons!